Stuff I made
Crafty projects, mostly crochet.
Contains 655 photos, the last of which were added 4 months, 3 days, 5 hours, 7 minutes, and 44 seconds ago.
Crochet Grogu (baby yoda).
My brother wants a cat so much, so I made him one.
I couldn't move into my new room until the violent shade of blue was gone. Just covered it in white for now, three coats, and omigosh what a relief.
DIY stands for Dave-it-yourself.
I made shelves for shoes! I came really close to buying some a couple of weeks ago - from etsy, made of reclaimed crates - then realised how slack I was getting on the reuse front. I scavenged wood from three places:
Some shelves I didn't need from the built-in cupboard in the bathroom;
the bins across the courtyard;
Grain & Sustain, who had some offcuts going spare.
And borrowed tools from a neighbour. I bought screws (and reused a few that I extracted from the G&S wood).
For want of a workshop, I did sawing on the beach and in my bedroom. I measured and planned; Dave helped me with drilling and solving some logistical issues.
It's pretty janky, but it functions, and it's MINE.
I don't think making shelves is my true calling though.
I made a bath mat from eight pillowcases (aka a rag rug). Shredded in a continuous spiral and then normal crochet with a big hook. Worked great! (The first section I made multiple strips and tied the together but it was very lumpy and harder to crochet. Definitely recommend the spiral method.)
I followed this pattern to make a Kelpie. I started this in January and it took a lot longer than expected. Partly due to being interrupted by moving house and other things, but also it was a bit more fiddly than I thought. I learnt some new amigurumi techniques (like making a curve). I usually attach the parts together with a crochet hook, and I tried with this, but it was just too complicated, so I had to pause everything and wait until I had a bodkin in my life. Once that arrived, this was much easier and it came together pretty well.
Once complete, after a quick beach photoshoot, I promptly posted it to Falkirk, to be with its own kind..
Sanding, filling holes, and painting the hallway from twitter-blue to white, finally.
Removed the unnecessarily bulky builtin wardrobe from my bedroom to reclaim the space for better things. Except I guess it's been here since the flat was built, because they didn't bother to finish the floor, walls or ceiling underneath. So now I have new and exciting voids and exposed brickwork. Also the edges don't line up. K gave me some MDF for a temporary floor, but I'm probably going to need a professional to deal with the rest.
When I first moved here I wished for steps down to my nearest bit of beach, instead of the slippery muddy slope down the verge. One of my neighbours had been thinking about solving this problem for some years, too, and had both expertise and vision to actually do it (unlike me). So with five and a half hours work (including lunch break) and lots of digging and rock hauling, the two of us built these steps. It was deeply satisfying, and they look like they've always been there.
Crochet panda hat and shoes for Polly's new baby.
Baby seedlings: radish, lettuce, carrot, parsley. Sprouted in a tiny pot then planted in the windowbox, but kept inside for the time being. Some cute slug frens, gently evicted after demolishing two whole lettuces. Also Project Mushroom began in earnest.
Also I crocheted some little mushroom keychains.
I moved my salad windowbox outside, replanted my tiny carrots into the tyre planter, and sowed chard seeds in there as well. I stacked my other windowbox onto rocks, and planted nasturtiums in there.
It didn't take long for my lettuces to all die from wind and sun exposure. The radishes look battered, but I think most of them will pull through. I lost a spring onion as well. I direct sowed bok choy where the lettuces were. The carrots look pathetic, but mostly okay for now.
I was given a growbag and two healthy tomato plants and a cucumber, and rigged up some string for the tomatoes to climb against the wall. On Sunday I picked up a bunch more big planters from a Freegler as well... so the path-garden is growing..
Meanwhile in the living room, I made makeshift pots from toilet roll tubes and a plastic bottle for chilis and sweet basil. By the end of the week some of the tubes were germinating, but I couldn't remember which were which. I expect they're basil though. By some miracle the chilli seeds I planted weeks ago - at the same time as the lettuce, radish, carrots and parsley - finally sprouted!
I also repotted my older supermarket basil plant and moved it to better sun and it's looking happier again. One of my rosemary cuttings sprouted roots, so that's in a pot now too, and I rearranged my windowsill setup multiple times.
Oyster mushrooms! Elm, and blue/grey. First pins appeared on the 18th, and they matured and started dropping spores on the 25th. A fast turnaround! Every time I went in the kitchen they had grown some more. I felt like I could see them growing before my eyes.
They are the most beautiful things I have ever had a hand in creating.
I used kits from urban-farm-it.
I gently and lovingly harvested the beautiful mushrooms, and later gently and lovingly cut them up and seared them lightly with a little bit of coconut oil and sea salt. My delicious babies.
Dave took down his fitted cupboards. There were no fantastical wall voids like in my room, thankfully, but we did find a creepy haunted baby photo.
Basil and bok choy seeds sprouted. Repotted parsley. Footpath garden was hit pretty hard by strong winds and hail, but my runt radish is doing the best!
Second flush of mushrooms is not looking good. One small clump, a funny colour, and a couple of sets of aborted pins, and little movement anywhere else.
Harvested a sorry second flush of mushrooms.
Potted basil and parsley; seedling corner in the living room is out of hand again.
The third flush of mushrooms! From both bags. Not as good as the first, but better that the second.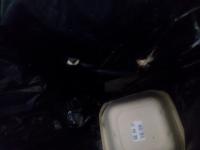 Mushrooms ready to harvest when I got back; and inkycap mushrooms growing with my tomato seedling are weird. A hungarian hot pepper finally sprouted.
Crocheted a chunky hat from scraps of freegle yarn to wear when I'm swimming in the sea.
The Cloud Garden.
The most beautiful gift I have ever been given. It contains three orchids, a bromeliad (alien pink thing), mosses from local woods, and various rootless air plants.
Finally resolved the void! After the plaster had dried, I sealed with with diluted PVA and gave it two coats of white paint. Then turfed all of my stuff (all two bags of it) out of my room and moved the hammock to the living room, and transformed it into something that looks more like an actual bedroom, for guest use this month.
Stacked a beach crate on beach bricks and filled it with compost to expand my garden even further. Planted radishes, chicory and land cress in it. A second hungarian hot pepper sprouted in the loo roll seed trays on my windowsill! But it looks a bit unwell.
The Cloud Garden, looking lovely.
Deconstructing the old, slightly gross, bathroom, with a hammer. Fortunately the tiles came down easily without too much disruption to the underlying plasterboard. And then work begins on putting new tiles up.
Put art on my walls. Unprecedented level of settling in.
New things sprouted (chicory, land cress and radishes in the crate) and other things are growing! Tomatoes are maybe looking bushier, and kale and broccoli and chard certainly are. Bok choy looks spindly but doing its best. Some basil and a couple of parsley are going to make it. Planted out a new cucumber (who had a head start in the polytunnel) to replace the one that died. Very proud of my runt radish, who is now the best of the bunch.
The alien orchid has sprung two beautiful purple flowers!
The mushroom pins that popped up at the start of the week aborted. Chopped up the substrate of the healthiest (most populous) looking bag and layered into new substrate for a second round of incubation. Put the other bag in a compost bin. So let's see if they go anywhere.
Slug damage on the orchids. But new purple flowers on the bromeliad.
We let a radish go to seed, and it is getting massive.
In my footpath garden, chard and broccoli are looking bushy. Attempt 2 at bok choi sprouted.
A secondhand TV cabinet from Furniture Plus, transformed into a bathroom sink unit. I sanded it down (much more work than anticipated, despite help from friends and tools) then re-varnished it a darker colour. Also boosted the height by a couple of inches with some scrap wood.
Dad did the work of making the holes for the sink, and plumbing it all in.
I learned to grout, and grouted a lot. Also spent much time cleaning dried on adhesive off all of the tiles (grumble).
The sink, shower, and toilet got plumbed in, the shower screen up, the floor down, and a new bath panel made from fragments of the old one plus flooring. It's almost there.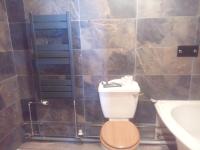 A giant Scottish thistle has joined my footpath garden. And sprouted a mushroom.
Things are growing.
Caught a loud orchid slug.
First cucumber! Chillis are looking great. Various leaves are thriving. Purple flowers grow up the side of the bromeliad, working their way towards the top.
Plus: mushroom update... chopped up my spent straw substrate and mixed it with grain, into new bags, which are being re-incubated.
Nasturtiums are flowering. Wow they're bright!
Damage to the rhubarb.
Chillis are looking amazing.
Tomatoes and cucumbers are developing. Picked a radish and a banana chilli and broccoli.
Extended the footpath garden with a new planter made of old wood and washed up fishing crates..
Found some beautiful yew in R's shed. Sanded it down, treated it, filled borer holes, and oiled it about six times over the course of a couple of weeks.
Bought, by accident, unfinished steel brackets off ebay. So I had to spraypaint them black.
Finally it all came together into bathroom shelves. Which Dave promptly covered with all of his mysterious potions.
Dad returned, and started dismantling the ensuite with a hammer. The shower fitting is nonstandard, the sink waste runs uphill, and the stepladder went through a rotten bit of floorboard. But the shower wall we wanted to remove came out just fine, and most of the material from it was fit to be repurposed to re-enclose the upstairs pipes that needed to be boxed in again.
Cucumber, carrots and broccoli from my footpath garden. Banana chillis from the polytunnel. Shitloads of rhubarb; other root veg and courgettes from the garden.
Capsicum, chilli and tomato polytunnel excitement. Excessive courgettes. Harvested the turnips too late and they're not good. Got a second freezer to start bulk processing some of this produce and storing for winter.
Interesting clump of mushrooms growing with one of my broccolis. Haven't identified them yet.
Everything is getting eaten by caterpillars, but rescuing as much kale as possible before I surrender.
Cucumbers and chillis are starting to explode.
Misc flat improvements.
Work on the ensuite uncovered an exciting floor void, and rotten floorboards that the step ladder fell through.
Tiles went up, a new floor went down, toilet from ebay and sink unit from Freegle were installed, and existing towel rail was moved. The wooden shelf was yet another piece of beautiful wood, ash this time, scavenged from R's shed, that was almost exactly the right dimensions already, and I sanded down and varnished it.
Dad left, and I repainted the walls with white bathroom paint. Two weeks later Dad came back, and installed the heated towel rail to replace the radiator, and fitted a new ceiling as the old one was rotting a bit.
The mirror had been an issue as the window interfered with the space above the sink, and we need one that works for people between 5 and 6.5 feet tall. Astonishingly at the last moment I picked up a mirror with a frame to match the shelf from the secondhand furniture shop for £3 with a swivel stand, so we bolted that to the windowsill and it was perfect.
The cucumber situation is getting out of hand. All hail our cucumber overlords.
Eight out of eleven of my chillis are now bearing fruit!
Also courgettes, beets, broad beans. Tomatoes are ripening.
Planted some less functional but pretty things in my crate planter to make the place look more presentable.
Finally cleared Dave's room the guest room and painted a base layer of white to cover twitter-blue and bare plaster.
Dave's room The guest room becomes white and purple. This was my first ever time painting a colour and it was fun.
R and Max and I insulated under the floor in Dave's room the guest room. Under one half of the room there was a positively comfortable 2 feet of space to maneuver in, but under the other half it got down to a foot or less. Not horrifying at all. This involved duct taping and cable tying insulation tubes around as many pipes as we could get to, and stapling and taping thick foily stuff over it all. It took the better part of a weekend and felt like a mega achievement. Max did most of the work, obviously.
Laid laminate floor in Dave's room the guest room. Once again, Max's help was invaluable.
Crochet tea cosy for Matt.
Painted my room in pale grey and dark green, and gave the ceiling a coat of white to get rid of nicotine stains from the previous occupant. My cosy crochet corner is finally complete. More or less got the hang of painting straight along edges without taping them up.
Now I have my cosy crochet corner I can crochet again. Yoda on 'commission', Mando for J, seahorse for E, panda hat for another E.
Ever since I saw this rock in March, I have aspired to paint my hallway that shade of purple. Today I finally started. And also the very important job of de-yellowing the ceiling.