Homemade food
Food I made.

Contains 1665 photos, the last of which were added 26 days, 15 minutes, and 6 seconds ago.

Oat chocolate made from coconut oil, coconut sugar, and cocoa
Chocolate coconut raspberry cake
Coconut oil chocolate pie
Coconut oil chocolate pie
Emergency code brownie
Tofu chocolate pie
Chocolate pie
Pizza with vegetables and daiya, crust from Wholefoods. Melty melty.
Pizza with vegetables and daiya, crust from Wholefoods. Melty melty.
Cashew cheesecake with blueberry base
Cashew cheesecake with raspberry
It looks a bit pants, but it was delicious: vegetables and dumplings in sweet and sour gravy
Big ass taco salad
Chillis, my love
Late night soup and crisp and mayo sammich (with homemade fried flatbread)
Grilled tacos
Chocolate beet cake
Homemade mint lemonade
Procrastabaking
Grilled tacos
Beet bread
Pizza and fries; milk and cookies
Burger tower and homemade fries
Colours of joy
Cookies for grownups
Raw coconut lemon bars with dark chocolate
Classic mushrooms and jalapenos on sour dough
Chocolate coconut cakes
Testing my new kitchen: peanut salad (with tofu, purple sweet potato, salad stuff); fried noodles (mee goreng); bowl of exciting fruits; chewey banana oat ginger cookies
Dragonfruit smoothie and tofu salad sammich
Various noodles
Pancake night for me and MM! Potato pancakes (with chilli and bok choi) followed by banana pancakes (with coconut). Bot made with soy milk and regular white wheat flour, dry fried.
Smoothie: papaya, dragonfruit, orange juice, soy milk. Noodles: mee with daikon, seitan, chillis, cabbage and bok choi. Fried in coconut oil with a little soy sauce and curry powder.
Chips (deep fried in coconut oil) and baked beans (from a can) in a toasted sandwich. I've said it once, and I'll say it a thousand times: I'm not vegan for my health.
Sweet potato pancakes on the Wholey Wonder grill at lunch, and a naked burger for MM for dinner.
Green smoothie (kiwi, apple, banana, orange juice)
Wholey Wonder is innundated with almond meal, so I made cookies. Unmeasured quantities of almond meal, brown sugar, grapeseed oil, and baking soda; drizzle of vanilla extract. I thought my ratio of sugar to flour would make them crunchy, but almond meal is not flour... so they took much longer to cook than expected (over 30 minutes) and were pretty fally-aparty. A little better once cool. Taste good, because... how can you go wrong with almond?
Ice cream: coconut cream, cocoa, fig syrup, coffee
I tried to make pancakes with only almond meal (and soy and coconut milk). They tasted great, but totally fell apart. Threw in just a little bit of wheat flour, and they held together.
I made bee hoon (vermicelli) salad with cucumber, carrot, chilli and tofu for Malaysian Mum. She provided peanut Chinese New Year cookies, I made the almond ones, and the granola bars are Wholey Wonder castoffs.
Pizza pizza pizza pizza... with Wholey Wonder almond meal in the crust, because it was too sticky. It didn't help much though.
Hearty potato and lentil soup with bread and butter. Just what you need on a sweltering Malaysian winter's day.
Chilli and chips
Chapati, spring rolls, chillis
Almond butter
The Wild Pasir Panjang cook was away so I made my own dinner with the provided vegetables and spices
dahl and chaptai dahl and chapati
Wholey Wonder smoothie bowl, and snickers bars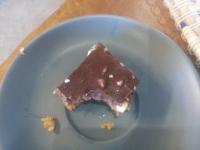 Oat milk and crisps
Improv chocolate cookies: white flour, cocoa, baking soda, dessicated coconut, oat pulp (from the oat milk), vegan margarine, coconut sugar
I marinated firm tofu in lime juice, soy sauce, and chilli flakes for about an hour, then dry fried it on the Wholey Wonder grill pan. It was amazing.. consistency of halloumi; a little salty for some people, but definitely hit a spot that used to be hit by cheese for me. We ate it with a bunch of stir fried veggies and lentils.
I spent all day at WW yesterday making this rainbow cheesecake. I was interrupted a lot, and took a break to make the snickers bar (also pictured) but I still want to rename it the 'forever cheesecake'. The base cheesecake cream is cashew, cocoa butter, and coconut milk. The pink/red layer is dragonfruit, the yellow is mango, the purple/blue is blueberry, and the green is spirulina.
Chocolate chapati
Tofu quiche at WW, surprisingly structurally sound
Charred tempeh..
Tofu, black beans, various vegetables, lots of chilli and hot sauce, in a spelt wrap
Quinoa granola (charred). Smoothie.
Homemade pita/chapati with salad and burger.. and fries of course.
Flatbread 'n' beans
Breakfasts. Vegan not-omelette is gram flour (equal parts with water), nutritional yeast, ground flaxseed, herbs and spices, vegetables.
Zucchini courgette noodles with courgette fresh from Mum's garden (plus chilli, tomato, lemon juice, lime juice, soya sauce, sesame seeds).
Two curries and chapati. Lentil and potato; mushroom, kidney bean, tomato, peppers, onions.
'Mince' made with finely chopped cauliflower, chilli tofu, mushrooms, tomato, soy sauce.
Pizza with a base of chickpea flower and flaxseed (fried on the stovetop to solidify before baking to make it crispy) with Tesco jalapeno not-chedder cubed (super melty) and Violife not-parmesan grated (only the bits not directly exposed to the grill melted, the top went dry/crispy) on top.
Grilled not-cheese, with the Tesco jalapeno chedder. Did I mention this melts super well?
Food I made when I was home.
Mum sent me to Gram's with instructions to make lunch from whatever I could find. There wasn't a lot in the cupboards, but I managed to rustle up tomato and mixed peppers soup.
I made curry and chapati for Mum, Dave and J too. Also featured: blue not-cheese (coconut oil based) on toast.
Pasta with not-cheese.. and a chocolate coconut fudge cake.
Pasties stuffed with potatoes, herbs, spices, and not-cheese. Entirely spelt flour pastry, which is pretty dense, but works out.
During today's Social Web WG call I made the best pizza I've ever made. It was helped by four kinds of vegan cheese, three of which were part of the new (to me) Tesco range. I stuffed the crust with Violife, and on top put chunks of Tesco blue cheese and chedder, and covered it liberally with grated mozzarella. Somewhere underneath were red onions, yellow bell pepper and courgette. The base sauce was chilli paste and tomato. The dough is a mix of spelt and wheat flour, and water.
Last week I made a cake, and recalled that I'd put leftover frosting in the back of my fridge in a cup. This is an unknown ratio (because who measure things) of date paste, coconut oil and cocoa, and it is a perfect chocolate mousse!
What a glorious evening.
I coated soy chunks (twice) in a wet batter (soy sauce, sambal, flax egg, oat cream and various spices) and dry (wheat flour, corn flour, nutritional yeast, spices), then deep fried in coconut oil for a few seconds. I covered potato chunks in dry batter and fried those too. It was good with onion and mushroom gravy, and the next day cold with salad and sambal to dip.
Cookies! Wheat flour, spelt flour, baking soda, white sugar, coconut oil, dark chocolate chunks, 8 minutes low oven. Equal parts oil and sugar, 2x flour, take out of the oven whilst still soft. Good texture, but brown sugar will be better.
Chilli. Good with homemade chips, good in cevapi bread, good by the spoon. Mixed beans, leftover mushroom gravy, lentils, sweetcorn, soya mince, tomato puree, sambal, various spices.
Chocolate hazelnut cookies. Equal parts coconut oil and sugar; 2x that of flour (spelt and wheat); baking soda; cocoa; flaxseed; dark chocolate chunks and hazelnut halves. Smaller and flatter than the last batch, improved the texture, but I still need to ditch the white sugar. The coconut oil makes them so creamy. Best after refrigeration.
Omelette made from chickpea flour with a sprinkling of flaxseed, vegetable stock, turmeric, basil; topped with cherry tomatoes, lightly grilled mushrooms, and coconut oil not-cheese.
An approximation of quesadillas
Curry, salad, veggie burger and chips.
Pear and blackberry tart, made with gluten free flour and not quite enough coconut oil. The pastry was not flaky, but the fruit carried it. I ate one slice, and OCCRP wiped out the rest.
I made spicy battered tofu for Elizabeth. Inspired by kung-pao style. The batter was equal parts gluten free flour, cornflour, and water; coated the tofu then deep fried in coconut oil for less than a minute. Turned out fantastic. The sauce is chillis, leek, garlic, ginger, carrots, peppers, peanuts and soya sauce. Spicy. Served with brown rice noodles, and blackberry lemonade.
Avocado mess on toast.
Pasta with vegetables, cabbage, tomato, soya mince.
Cheezey quinoa.
Not-omelette with not-cheese.
Cakes, mushroom pie, etc..
Elizabeth and I made stir fry, bbq cauliflower, roasted marrow, and zucchini noodles. We ate most of it.
Barley with vegetables and tomatoes.
Celebrating Canadian thanksgiving with pancakes and chocolate banana bread.
Burgers and krompirusa
A chocolate pear cake, anticipating Mum and Julian's 2am arrival in Sarajevo. This was the correct thing to do.
Contributions to the Prana Yoga potluck. Aubergines stuffed with veggies and bulgar wheat, sprinkled with vegan cheese that my mum brought me from the UK. A sugar free beetroot cake with lemon cream cheese icing. The cake turned out a bit weird, but was enjoyed by people who already had weird diets.
Various comfort foods... chips, chilli, stews, mac 'n' not-cheese.
Sugar free chocolate beet cakes.
Excessive pizza with vegan cheese from Mum. I used yeast in the dough and let it rise once, and I am never going back.
Grah.
Fried tofu with quinoa.
Today's Bosnian word of the day is hljeb. With a side of leek and potato soup.
Waaay too sweet cookies. Just brown sugar, flour, raisins, and coconut oil.
Emergency cakes chez Mum. Self-raising flour, bicarb, baking soda, 3 bananas, Vitalite, almond essence, dessicated coconut, and coconut milk until it was the right consistency. Dark chocolate chunks. Shockingly good.
Some chips, some pizza, some pasta, some pancakes, some tacos, some beans, some coffee muffins, some curry, and a particularly good fried tofu and mushroom sandwich.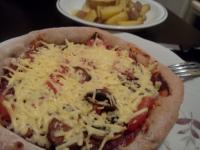 Home comfort food, largely junk.
Various delicious things I made with chanterelle mushrooms, and some dumplings with soya and berries.
Creative hostel breakfasting.
The great Latvian mushroom adventure.
I bought a bunch of different types of mushrooms from the giant market, all new to me, in various states of decay. Some were bizarrely cheap, some were shockingly expensive. Obviously I had no idea what to expect, so maybe this was all perfectly normal.
When I got home I discovered one batch had some teeny tiny larvae crawling around on them. I rehomed them in the plumbing system, where I am sure they will thrive, and threw out any mushrooms they had thoroughly moved inside of, which was fortunately few.
The giant one is a bolete, and I think the smaller ones that look the same must be as well. I sorted out all of the small probably-boletes and halved them. I threw them in a pan and added naught but heat, and they soon turned into soup all by themselves. I'd rinsed them to try to get rid of some slime, and they just sucked the water right up. It was impossible to remove. See also: photo of me trying to try the big one out with a hair dryer (not successful).
I let them simmer for an hour or more, until they were thoroughly mush, then stuck them in the fridge when they were cool cos I had plans to eat out that night.
When I finally got around to consuming them as soup, they had reduced and gelled up a bit. I reheated them, and added a drizzle of soya sauce, almond milk and a handful of nutritional yeast. The soup was delicious. When I'd been preparing them, the texture and sounds started to really weird me out - I'm not usually squeamish. Fortunately they were just soft and melty in the soup and not weird at all.
The giant bolete, I sliced and fast-fried in vegetable oil. The internet advised me to cook it quick so the outside would go crispy but retain the moisture on the inside. It wasn't really like this; the result was preeetty slimy. It definitely resembled some kind of seafood, not that I know much about that. I could see it as a substitute though.
The more solid mushrooms, a mix of yellow, grey (beautiful grey) and a lonely red one, I lightly sauteed in oil with some salt and pepper. I wanted to keep them pretty unadorned, to taste the mushrooms properly. They made a delicious rich side to seitan sausages and potatoes.
Pancakes with pomegranate and fig syrup; rice pudding with pomegranate and fig syrup. And comfort food.
Greek pastries and coffee. Then I couldn't decide whether I wanted mashed potatoes and gravy or pizza. So I made both. And feasted for the next two days.
Rice cooked with red cabbage makes it purple :D
Bean chilli. Chips and chips and chips.
Cooking for Elizabeth & co in Harare, Zimbabwe. Much room for mushrooms.
Various comfort food for myself and others over the course of the summer, in several different kitchens.
Healthyish vegan junk and hearty dishes in my Mum's kitchen.
'Nut luncheon' is made entirely of peanuts, how bad could it possibly be? Sure it comes in the form of can-shaped pale mush. It surely can't taste as unappetising as it looks? The instructions say grill or fry. I fried it with coriander, cayenne pepper, black pepper and salt. The smell of it frying haunted me all day after. It got a pleasant crispy texture on the outside but the taste still left an awful lot to be desired.
The next time I cubed it and tried thyme, soysauce and Vegeta (MSG), and fried them with mushrooms. That was a bit better, but the bar wasn't high. I was impressed that even Vegeta didn't help.
Maybe it needs marinating in something..?
Delicious homemade things. Banana pancakes, curry, buddha bowl, grah.
Using some of my precious vegan cheese supplies on delicious lasagne (with garlic bread and salad) and pizza (with homemade sweet potato and potato chips).
Last night I made falafel, based on a recipe by Jack Monroe. I approximately doubled the recipe, and didn't measure or weigh any of the ingredients; subbed the fresh herbs with carrot tops, and threw a clove of garlic in. Delicate application of water and flour to the final mix and it was pretty easy to get them to hold together. Delicious!
Isolation Kitchen begins in earnest! I bought a loaf tin along with masses of baking supplies I haven't really bought since I started travelling, so I could fully commit.
Featured here:
Ad-hoc buddha bowl
Turmeric spicy breakfast rice
Khinkali (Georgian dumplings, filled with mushroom or potato)
Chocolate coconut cake (sugar free) for the Co-op's 5th birthday
The last of my vegan cheese on another lentil lasgane
Lemon and poppyseed drizzle cake (sugar-filled)
Bean-burgers, made from mashed white beans, carrot, carrottops, and red onion; coated with dry mix of semolina, paprika, turmeric and salt before frying.
Food is so good.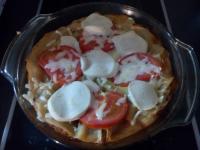 Another week of cooking and baking delicious things.
Bean chilli with roasted chard;
Oat and flax cookies;
Vegetable lasagne (with mushrooms, chard, tomatoes, aubergine and carrot);
Classic comfort food, tinned tomatoes on toast;
Cornish pasties... shortcrust pastry is an ordeal, ain't it?
Purple (beet) risotto;
Coffee and hazelnut cake.. WIRED
Curried cabbage and dahl, Malaysian street food style;
Sprouts! Flaxseeds and chickpeas making progress.
Another week of increasingly experimental cooking and baking.
Pizza!
Many times fried potatoes in various shapes
Peanut butter cookies
Fried rice
Curry potato pastries with greens and mushroom gravy
Weird semolina orange cake with yeast that fermented overnight and tastes a bit beer-y
Spectacular homemade bean burgers with homemade bread
Sprouts! Chickpeas and flaxseeds successful, sunflower seeds doing their best
There's a distinct lack of any vegan specialty stuff in Sarande, including just plain tofu. I can get sugar free soy milk though, if I trek across town to the big supermarket, which I did. Then it's a case of curdling it with lemon, and pressing it with a cheesecloth (or... a pillowcase). It was very soft and a bit crumbly. I might think of it as cream cheese rather than tofu next time, and be happier. I immediately mushed it up with turmeric and spices to make scramble.
I found this recipe for 'bacon' made from banana peel and just had to know. I made marinade from soy sauce, red pepper paste and paprika. The first time - alongside tofu scramble and mushrooms - was a hit, although a bit on the salty side. I reused the marinade, diluting it a bit with water and orange juice, and adding paprika. It went great in BLTs, and on top of tomato rice too. Since I get through plenty of bananas, and it's no trouble to make, this is going to become a staple! It works best when the banana peel is pretty brown, and the oil is already hot so it fries fast and bubbles a bit. It spits a lot when first dropped in the pan though.
Having procured a giant bottle of soy sauce, it was an exciting week in isolation kitchen.
Various soy sauce-y stir fries, including with peanut sauce and sesame seeds.
Various cookies
Bananabread with coconut and dark chocolate chunks
Tacos with homemade corn tortillas and bean chilli.
Shredded cabbage and carrot salad with soy sauce and sesame.
Various hearty soups and pastas.
And bananapeel bacon of course.
This week's food adventures; I found myself with an abundance of spinach, most of which got eaten with pasta and was not interesting enough to photograph.
Spur of the moment microwave chocolate pudding and chocolate custard, just like Mum used to make.
Banana peanutbutter cake with caramel and coconut.
Pizza (with spinach).
Saag aloo (and dahl).
Amazing lemon pie with a shortbread crust. The filling was just lemon zest, soy milk and cornflour (turmeric for colour).
Cauliflower 'wings'. Maybe not as crispy as they should have been, but still tasted good. With cabbage salad and quinoa.
Bean burgers, not as good as last time. I used courgette instead of carrot and they were too wet so I had to add lots of flour.
Banana pancakes with leftover homemade caramel. Light and fluffy.
Fancy savoury oats with turmeric and salad.
I discovered the Greek margarine in the supermarket is secretly vegan, which opens up a whole new world of baking possibilities.
Two kinds of bread, one with a seedy packet mix and one with two kinds of cornflour. Both good.
Flapjack!
Curries, chilli, the usual.
Sprouts! Green lentils sprout great too.
Fruity salad with wheat berries.
Pasta with avocado sauce.
This week's cooking a mixed bag..
A disappointingly dense orange, almond, ginger and cardamom cake.. I call it pudding cake I guess and pretend it was supposed to be like that.
Passable falafel, after a shaky start.
A good pile of gooey choc chip biscuits.
Curries and fried potatoes..
Lots of things with somun (simite).
Penne dishes.. an attempt at 'cheesey' sauce with carrots and potatoes; expensive truffle mushroom sauce from a jar.
A small batch of homemade seedy bread.
An extravagent lemon pie with blueberries (expensive) and dark chocolate.
An excellent pizza with fluffy dough that rose all day (and sweet potato fries).
Some burgers failed to hold together so I called it sloppy joe and proceeded (with homemade bread). After the mix had chilled the next day, with a bit more flour, I turned it into burgers.
A highlight was french toast with batter made from semolina, cinnamon and rice milk. With homemade syrup.
Made a really good chocolate cake. I wanted peanut butter frosting, but ran out of vegan butter. It goes really well with fresh cherries though.
After a week off, I missed my oven. Well, maybe I missed the cake it produces.
I immediately made a peanut-butter-and-jam cake with cherries from the mountain roads near Gjirokaster, and local jam from Permet.
An experimental spinach and mushroom quiche with semolina batter worked really well. Vegan quiches are always with tofu, which I can't get here so this is a good alternative.
Banana cream pie, which didn't set at all, hence only photos of it in the dish.
Really good sag aloo.. and usual comfort foods.. fried potatoes, mashed potatoes, bananapeel bacon sandwiches..
Peanut butter cookies with cherry jam in the middle.
A great carrot cake with lemon cream frosting started the week, and lasted all week!
A good pizza. I tried to make 'omelette' type things with semolina, but they turned pink (no idea why) and were more like burgers instead, so I made bread rolls and rolllllled with it.
Flatbread and beans for burritos.
Fruit loaf without a recipe (just generic no-measure bread with some raisins and nuts); turned out pretty well, if a bit crumbly
Some British things... dumplings with a bean and mushroom stew; homemade baked beans (pretty close!); chip shop style curry sauce
Fancy pasta with cream sweet potato tahini sauce
Sesame cookies
Ran out of sugar so I made sugar free banana chocolate cake, just like the old days. And at the end of the week, a courgette choc chip cake, which did have brown sugar in.
Other highlights.. a shepherd's pie, mushroom risotto with hazelnuts, stuffed aubergine Albanian style, and vegetable tempura.
Did you know you can just make doughnuts?! I mean, I knew it, and I can't believe I never actually did before. Just... 2 cups of flour, a couple of tablespoons of sugar, half a cup of plant milk and some yeast; knead, and rise for 2 hours, then shape and fry in an inch of oil for a minute or two on each side. Actually incredible. I coated the first batch with brown sugar (although it doesn't stick well, even when fresh out of the oil), and the second batch with cinnamon and brown sugar. One I ate smeared with cherry jam, and another with melted dark chocolate on top. Holy cow.
Also had a good pizza and chips, and some great curries.
Gradually improving my burgers. Red beans make everything better. I think I stop them falling apart when they cook by chilling the mixture, coating in cornflour before cooking, and frying as hot as possible in not too much oil. But it's still a bit hit and miss. The contents are mashed beans, plus whatever diced sauteed vegetables I have to hand, typically.
This week's special treat was nachos with a great bean chilli.
Also I made bananapeel bacon a few times, more doughnuts, pancakes and an excellent lemon poppyseed drizzle.
Having acquired agar agar, I now have a mission to jellify all things. So far:
Sour cherry juice
Coldbrew coffee; cubed, dropped into almond milk.
I also added it to bread pudding, but ate it too fast to wait for it to set.
Also fancied up some doughnuts with cherry and lemon frosting. Dumped silken tofu on top of tomato rice under some roasted veggies. A good pizza, and nice simple chilli tomato spaghetti.
Lots of baking and dough of various kinds this week.
Fresh doughnut holes shaken with cinnamon and sugar in a brown paper bag to take on an evening picnic.
Rich chocolate hazelnut cake with fudgy frosting.
Herby pastry filled with mushrooms, peppers, tomatoes and silken tofu (with chips).
Standard banana pancakes.
Vegan biscuits and gravy. They were light and fluffy and buttery and so fast to make, definitely a good quick bread roll alternative.
As promised, I jellified various things using agar agar.
I mixed it with almond milk to make delicious creamy puddings. They are topped with watered down apricot jam, also mixed with agar to make jelly.
I made a three layer loaf-jelly with cherry, lemon and apple juice, and suspended apple pieces. It tasted good, but the layers didn't stick together well, and the cherry and lemon layers merged a bit.
But the most exciting thing was attempting to make blue dye from red cabbage. The first stage is to boil the cabbage to make a purple syrup. Adding bicarbonate of soda - just a tiny pinch - makes it fizz up and change colour to blue. But too much, and it goes green. I added too much because the potion like fizzing was so exciting. A drip of lemon juice takes it back in the other direction, with just as much exciting fizzing. Eventually I got the balance more or less right to create this teal-blue which lightened as it set (no photos). It's not the vivid blue you'd get with artificial dyes, but it definitely looks unnatural which is what I was going for.. I added the dye and agar to sugar water to make a pretty boring-tasting jelly.
Homemade chips and curry sauce with not-homemade not-sausages and mushy peas. Lemon pie. Doughnuts (not pictured).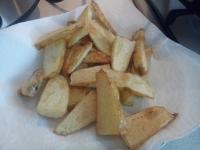 I made Chocolate Covered Katie's zucchini muffins with courgette from Mum's garden, replacing her apple sauce with almond milk, using normal white flour, and caster sugar. Mine look completely different. They could have done with 5 more minutes in the oven. Delicious and gooey though.
Found a packet of ramen at the back of a cupboard and enjoyed my first ramen in months (with Fry's polonly not-sausage (!! <3), tomatoes from H's garden, peppers, edamame, garlic and chillis from Mum's garden, peanut sauce.
And tried to bring a bit of Albania home with stuffed aubergine and pepper...
Homemade lasagne sheets with beetroot from the garden (made by Mum, not me) and compiled into a delicious vegan lasagne with beans and salad also from the garden, and homemade foccacia too.
It has been amazing to have J cooking for us for a couple of weeks. We were treated to vegan Japanese feasts, night after night. Aubergine with miso sauce, inari, fried tofu in shiitake sauce, mapo tofu, Japanese curry, okonomiyaki, nikoman, yaki udon, and more.
I chipped in a few times with doughnuts, apple cake, lemon drizzle cake, hummus, lasagne, pasta, curry.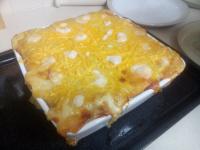 Made seitan from vital wheat gluten and gram flour. Krispie cakes with stale cocopops (these are vegan now apparently), choc chip muffins (not pictured), miso soup, inari, maki..
Misc homemade food from the last month. Bosnian grah and somun (not quite right but pretty close); Japanese curries; slowcooker stew; comfort foods... pizza, seitan doner kebab, mac 'n' cheese, chips, pancakes; chickpea flour omelette; bean burgers and homemade bread..
Between us, Dave and I have made various tasty pasta, noodle and rice dishes over the past few weeks. Dave is also getting into making 'omelettes' with chickpea flour.
I made a keto-friendly cauliflower rice dish with tofu and almond sauce.
We both made bread, and Dave's was way better than mine even though it was the first time he ever made it and had to sub in some wholemeal flour cos we ran out of white. We used the bread for burgers, sandwiches, and with soup.
I made a chocolate cake with blackberry coconut frosting.
Just enough rice leftover for a sushi roll yesterday lunchtime (and a Gregg's not-sausage roll, the two best rolls).
Homemade gyoza (mushroom and tvp filling). Homemade seitan. Coconut, white chocolate and raspberry cake with matcha coconut cream frosting.
Dave and I collaborated on bread this week: he did the kneading, I did the rest. Turned out well. Also made burgers from my homemade seitan, and fried it for spicy tacos. Also pictured: roasted veggies with peanut sauce and rice; tantan pho (no questions please, I didn't have ramen) with miso soup and spring rolls.
Dave requested a pie this evening so I made one with a cat on it. Look I never claimed to be a pastry artist.
It has red onions, garlic, mushrooms, enoki, brown lentils and tvp inside. We ate it with chips and gravy. Pie prep time vs pie eating time is grossly out of balance.
Stuffed portobello mushrooms with mac'n'not-cheese, then later with Japanese rice, topped with smoked tofu and stir fry veggies. A hearty barley, lentil and vegetable stew. Chocolate fudge cake with cherries.
Homemade crumpets! Finally. Flour, water, salt, yeast, bicarbonate of soda; a strong beating of the batter, and 15 minute rise. They tasted great, but aren't as bubbly as I'd like. I might try skipping the yeast and adding a little vinegar to react with the bicarb - because my banana pancakes have bicarb and lemon juice in and they always bubble a lot. I was surprised at how easily they came out of the ring once cooked mostly through.
Portabello pies, taco bar, udon, homemade bean and seitan burgers, broccoli and snap pea soup, mince pies (Mum's homemade mincemeat, my homemade pastry; an approximation of custard without any of the right ingredients), a roast with gravy and bbl not-meats, a fryup also with bbl not-meats, dahl, Earthy baked camembert..
I seem to mosty have taken pictures of the more junky things I made this month. I ate veg-packed things too, I swear. Here are:
Chickpea and sweet potato curry (by Dave)
Pizza (half vegan, half not)
BBL burgers in homemade biscuit(USA)-style buns with homemade chips
Fruit cake, using mincemeat Mum sent, with lemon icing and pistachios
Mac n not-cheese (with tomatoes, carrot, mushrooms, chilli, garlic, not-sausage)
Leftover mac n not-cheese in delicious juicy grilled portobello mushrooms. A shepherd's pie just like we used to make in Wholey Wonder (more or less). Chickpea omelette with the usual tomatoes, mushrooms and spinach, and for the first time not-cheese, which was a good addition.
Chocolate peanutbutter pie, of my own design, because I couldn't find any recipes that seemed quite what I wanted.
I pulsed what nuts I had - a handful each of hazelnuts, cashews and almonds - in the food processor until they were meal. Then added flaxseed and a small handful of chopped dried dates that I soaked in hot water, and the water (they had turned into mush at that point).
I pressed this into a tray to make the crust, smoothing it out by hand/spoon, and left it to set in the fridge.
A little bit left over - added a squirt of agave and rolled it in coconut to make an energy ball.
The filling was a cup of soy milk, warmed with about half a cup of crunchy peanutbutter (100% peanuts), half a cup of cocoa powder, two tablespoons of coconut oil, and squirts of agave syrup to taste. I added about a teaspoon of cornflour mixed with soy milk at the end, to make sure it would set, though the cocoa thickened it faster than I expected.
Spooned this int the crust, sprinkled chopped pistachios and coconut on top, and left it to set.
I had filling left over too - I rolled these in cocoa and coconut to make more energy balls.
It turned out of the tray easily, and held its shape perfectly! It's chocolatey, but still with a strong peanut taste, and good crunchy bits. Success!
Pink beetroot rice with aduki beans. Coffee and hazelnut cake. Veggie udon. Burn's Supper, provided by BBL, including deep fried vegan black pudding balls.
Some things with tofu. A lentil loaf which was a good experiment. A good week for slow cooker stews (blizzard, and busy). Almond milk panna cotta with aduki bean topping and nuts.
"No food in the house" this week until the BBL order arrived later than expected.. so I made "no-food" lasagne (soy mince, red lentils, tomato sauce; cream not-cheese in the white sauce), seitan chicken, "no-food" pizza (with seitan chicken, sweetcorn, pickles, tomatoes, and the last two mushrooms) and "no-food" curry (with chickpeas and seitan chicken; we ran out of white rice but I scraped together a mix of brown sushi rice and barley).
Friday brought the veg topup and BBL order (see: burger) to end "no food" week.
I made a chocolate and raspberry cake to round the week off.
The vegan chocolate berry meringue nests are from Roots & Seeds cafe, a delightful surprise find when I was walking into town one day (I knew about the cafe, didn't know they had vegan cake, let alone meringue).
A couple of things with tempeh; spaghetti bolognese; several curries.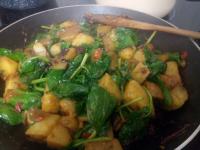 I normally bake the lemon pie for 15 mins (and use a baked crust) but my oven was out so I improv'd an unbaked version. It worked well. The raw nut crust (almonds, cashews, hazelnuts, flaxseed, dates) is better than the shortbread one in my opinion. And the filling (coconut milk, soy milk, lemon zest and juice, cornflour, turmeric) didn't need anything other than time in the fridge to set.
Got fresh turmeric, peeled and grated it, made many things yellow in the process. Tested my newly fixed oven by making bread rolls, which worked. And a cherry chocolate cake with blackberry and apple compote inside. Also pictured: mac n not-cheese; stuffed aubergine with barley and lorne not-sausage; burger patty by BBL.
Golden bread (with fresh turmeric and rosemary). Pizza, stews, creamy mushroom pasta, peanut stirfry, home-sprouted chickpeas and homegrown salad leaves.
Inspired by a picture on twitter, I made artistic focaccia. It was very oily, but otherwise good, with big bubbles inside from rising overnight.
Also featured: doughnuts; lasagne; lentil loaf with fried potatoes and mushroom gravy; mushrooms and homegrown beet greens and cashews spaghetti; courgette brownie.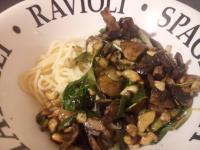 Fried not-chicken. Two hours to make, two minutes to eat. It's seitan made with vital wheat gluten, veg stock, various spices, and coated with a flour-spice mix, chickpea flour liquid mix, and flour-spice again, and deep fried. We ate it with homegrown beet greens, garlic mushrooms and rice, and then I had some the next day on a salad.
After one false start I finally got a good sourdough starter, and used it to make Ninni's rye bread which is packed full of grains, lentils and seeds, super hearty and delicious. The recipe makes a lot and the overnight rise was so lively it almost escaped, so I ended up with two loaves. This will be great hiking food!
Burgers made from beans, beetroot and seitan.
Carrot cake with lemon beet frosting (a bit too sweet).
Mixed bean chilli with guacamole.
Various pies from youngvegans.
Sweet potato and aubergine battered with sourdough discard.
My first ever sourdough! What labour. Started Sunday night, finished Tuesday morning. Had to plan my whole day around it. But it was good.
I have a surplus of homemade jams, so made some tarts and expect a lot more of this in the future.
Roasted five kinds of broccoli, three grown down the road.
More youngvegans pies.
Chocolate, coconut, hazelnut cake.
Stirfries, Dave's bolognese, "open face" Eastern Europe style stuffed cabbage leaves with wheat groats.
Last youngvegans pie.
Homemade veggie pizza; long rise, good fluffy crust.
Falafel and flatbread from scratch. Not 'real' falafel: few fresh herbs, cooked chickpeas, carrot.
Lemon poppyseed drizzle cakes.
Haggis with mash and a heap of homegrown greens.
I made sourdough again Sunday night - Tuesday morning, and sourdough lentil/seedy rye Wednesday night - Friday morning. It turned out basically the same as the last one, which is good, because I didn't change anything. Good with leek and potato soup.
Oyster mushrooms! Elm, and blue/grey. First pins appeared on the 18th, and they matured and started dropping spores on the 25th. A fast turnaround! Every time I went in the kitchen they had grown some more. I felt like I could see them growing before my eyes.
They are the most beautiful things I have ever had a hand in creating.
I used kits from urban-farm-it.
Last of the first flush of mushrooms, on homemade sourdough with homegrown salad.
I made wholewheat bread using lovingitvegan's deeply suspicious recipe. 100% wholewheat? 20 minute rise? Surely not. That'll be like cake bread. I subbed in 1/3 strong white flour and let it rise for an hour (but that was because of a meeting). It overflowed and stuck to the tea towel. I managed to salvage the top, and the texture and taste were great! Perfect crumb for sandwiches. I also added flaxseed for cronch.
I made a raw cashew cheesecake, which was a bit too sweet for my taste (too much agave) but other people enjoyed it. Swirled through with homemade berry compote, and the crust is my patented whatever-nuts-i-have-lying-around with dates and flaxseed; added some coconut flour to this one.
Also a great many jam tarts, and lentil moussaka.
Not every sourdough story is a success story. I used a different recipe, with more starter, to try to get a more sour loaf. Several things went wrong:
I fed my starter for two nights and it should have been ready, but it wasn't. I proceeded anyway, knowingly, but impatient.
I subbed in a bunch of dark rye flour because I had it left, but didn't amend anything else. Rookie error.
The dough was clearly too wet throughout. I couldn't handle it. Sticky and annoying.
Didn't line the tins. I was baking late, and tired! Fool.
Overcooked them slightly. This and the last point meant.. it took me half an hour to chip them out of the tins (which I did the next morning).
Didn't steam the oven, so the crust is soft not crunchy.
Despite all that, they looked pretty (before I dismantled them to get them out of the tins) and taste okay and have big bubbles, but in between the bubbles is dense and gooey. Still okay with soup or stew. Better luck next time.
I also made sugar-free banana peanut cakes, put compote and coconut yoghurt or coconut cream on lots of things, ate shittons of homegrown broccoli and salad leaves, made shepherd's pie.
Apple crumble cake; paltry second flush of mushrooms; rhubarb crumble; omelette;
Many many flapjack experiments. Dave made some excellent meals including top notch burger and mapo tofu. Made seven rhubarb crumbles. All at once. There is too much rhubarb, send help. Dad came for one night and we had haggis, and crumble and custard.
A peanut mushroom dish with oyster mushrooms I grew in my kitchen, jelly ear mushrooms from the woods in St Andrews, and white mushrooms from the market. Survived. Also peanut and berry compote tarts with a pretty spectacular coconut flour pastry.
Ginger cake that's "just like mcvities". I followed a recipe to achieve this, which involved a lot of sugar (caster, golden syrup, molasses). But it went down well with the family.
A full size quiche for the first time using chickpea flour batter. It was quite soft inside, but tasted great, and my pastry was fab (as usual).
Also featured: a rhubarb and blueberry cake with coconut cream and rhubarb banana jam in the middle; a standard shepherd's pie, the dish I make when I need to feed a crowd but have no energy left.
Cooking for four, stretching me to my limits, but a vegan fryup for three with limited stove space is the kind of logistical challenge I love to solve.
Also made a fancy pasta with spelt shells, sweet potato coconut sauce, roasted nuts and green veg. Multiple crumbles, and rhubarb jelly.
At the Community Kitchen: many flatbreads, plus vegan cheddar (that had not set when I left; not sure how it turned out).
I don't do christmas, but I do do contextually appropriate food. Leaning tower of gingerbread, mince pies (Mum's homemade mincemeat) and not-cheese board (not-cheese courtesy of Grain & Sustain).
Made an bottled an absolute ton of oyster mushroom soup.. tom yum variety and green curry variety.
Foraged oyster mushroom and lentil pie (my first hot water crust pastry - fabulously cooperative!)
Made samosa pies with Mum.