Doing-it-meself
Learning to love home improvement.
Contains 304 photos, the last of which were added 26 days, 6 hours, 56 minutes, and 39 seconds ago.
I couldn't move into my new room until the violent shade of blue was gone. Just covered it in white for now, three coats, and omigosh what a relief.
DIY stands for Dave-it-yourself.
I made shelves for shoes! I came really close to buying some a couple of weeks ago - from etsy, made of reclaimed crates - then realised how slack I was getting on the reuse front. I scavenged wood from three places:
Some shelves I didn't need from the built-in cupboard in the bathroom;
the bins across the courtyard;
Grain & Sustain, who had some offcuts going spare.
And borrowed tools from a neighbour. I bought screws (and reused a few that I extracted from the G&S wood).
For want of a workshop, I did sawing on the beach and in my bedroom. I measured and planned; Dave helped me with drilling and solving some logistical issues.
It's pretty janky, but it functions, and it's MINE.
I don't think making shelves is my true calling though.
Sanding, filling holes, and painting the hallway from twitter-blue to white, finally.
Removed the unnecessarily bulky builtin wardrobe from my bedroom to reclaim the space for better things. Except I guess it's been here since the flat was built, because they didn't bother to finish the floor, walls or ceiling underneath. So now I have new and exciting voids and exposed brickwork. Also the edges don't line up. K gave me some MDF for a temporary floor, but I'm probably going to need a professional to deal with the rest.
When I first moved here I wished for steps down to my nearest bit of beach, instead of the slippery muddy slope down the verge. One of my neighbours had been thinking about solving this problem for some years, too, and had both expertise and vision to actually do it (unlike me). So with five and a half hours work (including lunch break) and lots of digging and rock hauling, the two of us built these steps. It was deeply satisfying, and they look like they've always been there.
Dave took down his fitted cupboards. There were no fantastical wall voids like in my room, thankfully, but we did find a creepy haunted baby photo.
Finally resolved the void! After the plaster had dried, I sealed with with diluted PVA and gave it two coats of white paint. Then turfed all of my stuff (all two bags of it) out of my room and moved the hammock to the living room, and transformed it into something that looks more like an actual bedroom, for guest use this month.
Deconstructing the old, slightly gross, bathroom, with a hammer. Fortunately the tiles came down easily without too much disruption to the underlying plasterboard. And then work begins on putting new tiles up.
Put art on my walls. Unprecedented level of settling in.
A secondhand TV cabinet from Furniture Plus, transformed into a bathroom sink unit. I sanded it down (much more work than anticipated, despite help from friends and tools) then re-varnished it a darker colour. Also boosted the height by a couple of inches with some scrap wood.
Dad did the work of making the holes for the sink, and plumbing it all in.
I learned to grout, and grouted a lot. Also spent much time cleaning dried on adhesive off all of the tiles (grumble).
The sink, shower, and toilet got plumbed in, the shower screen up, the floor down, and a new bath panel made from fragments of the old one plus flooring. It's almost there.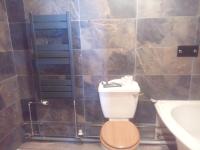 Found some beautiful yew in R's shed. Sanded it down, treated it, filled borer holes, and oiled it about six times over the course of a couple of weeks.
Bought, by accident, unfinished steel brackets off ebay. So I had to spraypaint them black.
Finally it all came together into bathroom shelves. Which Dave promptly covered with all of his mysterious potions.
Dad returned, and started dismantling the ensuite with a hammer. The shower fitting is nonstandard, the sink waste runs uphill, and the stepladder went through a rotten bit of floorboard. But the shower wall we wanted to remove came out just fine, and most of the material from it was fit to be repurposed to re-enclose the upstairs pipes that needed to be boxed in again.
Misc flat improvements.
Work on the ensuite uncovered an exciting floor void, and rotten floorboards that the step ladder fell through.
Tiles went up, a new floor went down, toilet from ebay and sink unit from Freegle were installed, and existing towel rail was moved. The wooden shelf was yet another piece of beautiful wood, ash this time, scavenged from R's shed, that was almost exactly the right dimensions already, and I sanded down and varnished it.
Dad left, and I repainted the walls with white bathroom paint. Two weeks later Dad came back, and installed the heated towel rail to replace the radiator, and fitted a new ceiling as the old one was rotting a bit.
The mirror had been an issue as the window interfered with the space above the sink, and we need one that works for people between 5 and 6.5 feet tall. Astonishingly at the last moment I picked up a mirror with a frame to match the shelf from the secondhand furniture shop for £3 with a swivel stand, so we bolted that to the windowsill and it was perfect.
Finally cleared Dave's room the guest room and painted a base layer of white to cover twitter-blue and bare plaster.
Dave's room The guest room becomes white and purple. This was my first ever time painting a colour and it was fun.
R and Max and I insulated under the floor in Dave's room the guest room. Under one half of the room there was a positively comfortable 2 feet of space to maneuver in, but under the other half it got down to a foot or less. Not horrifying at all. This involved duct taping and cable tying insulation tubes around as many pipes as we could get to, and stapling and taping thick foily stuff over it all. It took the better part of a weekend and felt like a mega achievement. Max did most of the work, obviously.
Laid laminate floor in Dave's room the guest room. Once again, Max's help was invaluable.
Painted my room in pale grey and dark green, and gave the ceiling a coat of white to get rid of nicotine stains from the previous occupant. My cosy crochet corner is finally complete. More or less got the hang of painting straight along edges without taping them up.
Ever since I saw this rock in March, I have aspired to paint my hallway that shade of purple. Today I finally started. And also the very important job of de-yellowing the ceiling.
I finally took up the carpet in my bedroom. To my great disappointment, someone poured concrete under the front half of the flat. So my dream of having a secret trapdoor to underfloor storage in the 3-4 feet of space I thought was down there has been dashed. Some of the floorboards are knackered, so I might end up having to replace the lot.
My hammock is now attached to the walls instead of on a stand. This gives me a lot more space around it, but more importantly makes it high enough that I can see the sea and the sunrise from it, so I never need to get up again.
Took up the smelly old carpet in my bedroom and removed damaged floorboards. Insulated what was possible of the pipes beneath, and fit new floorboards. Then laid new laminate floor, as modelled by Max.
Finished floor edging and skirting for the missing bits of skirting, and put my room back together. Also got an adorable stool for the extra couple of inches I need to get into the hammock now.
Espresso machine havoc that lasted for weeks is finally put back together.
Removed an inbuilt kitchen cupboard to fit a bigger fridge freezer. Polyfilled the holes, sanded and sealed the unfinished wall behind, and painted it. Then covered it all up with the new fridge, of course.