Fife 2022
Another year in Fife
Contains 1204 photos, the last of which were added 2 days, 5 hours, 50 minutes, and 53 seconds ago.
New year's day loony dook, and walks around the village. It was 13c! Practically summer.
Beach walkies and sofa snuggles.
It was drizzly and grey but Max doesn't care. He got very muddy. Fortunately the sea was on hand. (A couple of hours, to Wemyss and back.)
A braw sunset, seen with Max from a loop around Ravenscraig Park. (I still can't believe I live here.)
Beach and sunrises are much the same as I left them.
Some braw sunrises, as usual. Some days freezing, some days mild. And views from my newly elevated hammock.
New tea stall at the Friday market. Walkies and snoozles with Max.
Beautiful Dysart.
Rainy walk along Ravenscraig beach.
Lowenna came to visit. She and Max tornado'd around for a while until Max decided she smells tooooo good and they had to be separated by a door. Outside, the ball was not enough of a distraction, and I had to pry Max off her then hold him down with my full weight while M took Lowenna out of the way. Sigh.
Another beautiful day with Max.
Max had a run in with a beagle thing called Banjo in Ravenscraig Park. We crossed paths twice, the first time was fine though it was clear Banjo didn't like Max. The second time Max was strutting a bit but keeping his distance, then Banjo just went for him. It does Max good to get snapped at from time to time, especially by smaller dogs, because he's used to being the alpha. I didn't realise Banjo actually drew blood until we were a little way down the path (and I could hear Banjo getting a good telling off behind us). It was just a nick to his ear, but turns out they bleed a lot. When we got home he splattered blood all over the floors and back of the sofa. I washed it out and he rolled onto his back with his head in my lap to let me do it. Then I nipped to the pharmacy for bandages. I put an adhesive dressing on it and tied his ear down to stop him from flapping, but I wasn't sure I'd cleaned it well enough, but also didn't want to do more damage by cleaning too hard. Plus I was worried about infection from Banjo. So I called the vet, they booked me a slot an hour and a half later, and K came to rescue us in the car.
That was an exciting adventure for Max. He was in there for over an hour. They shaved a bit of fur, cleaned him up properly and glued the skin flap down, then bandaged him really tightly to stop him flapping. He shook it off before I'd even paid. So they took him back, and tried again with extra heavy industrial strength bandage.
He was gloomy about this, but had squirmed out of it by bedtime. Thankfully he seems to have stopped bleeding, though.
Today's ambling around Dysart.
Sunrises, beach walkies, full moon.
Braw day with the braw dog.
Max being cosy in various chairs.
Max takes downward dog very seriously.
A drizzly walk in between showers/snow/gales. After which Max had zero-gravity dreams in various places.
Max watched over me while I watched the sun rise. Then we ambled a third of the way to Wemyss before I decided I should change out of my pjs and put my coffee cup down, then try again for a proper walk. Braw day!
The tide was out further than I've seen it in a long while. Perfect for a walk to Wemyss along the beach, instead of the coastal path which is really muddy at the moment. We visited the fossil spot, and Max chased the ball almost the whole time. The solid rock part of the 'beach' at Wemyss is usually completely submerged when I'm around there, so it was great to wander over it like the surface of an alien planet.
Max was a Very Good Boy and zonked right out when we got home.
Max was a lazy bean. Weather was drizzly so we only did little walks, but he didn't mind. Big rainbow.
The sky was such an unearthly shade of blue at sunrise today I was convinced we were in a simulation. Obviously my camera couldn't capture it in its true glory.
Monday and Tuesday beach walkies.
Put socks on Max. He loved it. Silly Max.
Braw morning for a walk to Dysart harbour.
Sunrises, and walkies to East Wemyss (out along the coastal path, ice cream shop stop, back along the beach.
Sunrise, sunset.
Rainbow, watercolour skies, sunset.
Cleaned the beach between Dysart and Wemyss on a warm, sunny, March Sunday. Stopped for a snack on the top of the tall rocks by the fossil spot. Returned through the woods. About 6 large bags of rubbish in total.
Braw still day! Kayaked to Wemyss. I put my wetsuit on, but was far too hot. My arms ached all day afterwards.
Beach sunrises.
Big waves, moody skies.
Huge surf all day. Sunset from the coal binn.
Struggling sunrise (cleared up eventually). A communal paper recycling bin on the beach this morning.
Monstera unfurls big new leaves.
A selection of braw sunrises and sunsets in Dysart. As usual.
A spontaneous decision to get the last bus to Crail and camp by the sea. This meant we'd be there in time for low tide (the first bus in the morning was too late) for optimal seaweed foraging. Then we helped to plant lots of trees in the nature reserve with other volunteers arranged by Footprint East Neuk. Chips in Crail ended a great day.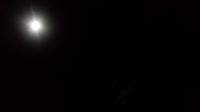 At the last minute, Lowenna was deposited on my doorstep on Thursday evening. She was full of bounce and beans and buzz as usual, and has decided that nonstop barking at Dave is now a thing. I was still in covid isolation on Friday, so we snuck down to the beach at sunrise, then she spent the day alternately lounging around and barking at nothing (until Dave got home, then she barked at Dave). She also thoroughly systematically dismantled Max's colourful string ball, and set to on his fancy olive stick thing so there is woodchip everywhere.
Lowenna and Max frolicked on the beach for a lot of Saturday. Then they snoozled inside. Once Max had got past his most primal urges, he started trying to romance her properly. They would gaze into each others eyes, or delicately lick each others paws and faces, sweet little puppy kisses.
On Sunday Lowenna was knackered from all the walks on Saturday. We worked in the garden, and the doggos chased the ball and frolicked. Lowenna is faster than Max, but less precise, so they're evenly matched in ball chasing competition. Lowenna is definitely learning good behaviour from Max, and Max is learning how to be socially normal from her..
In the evening, Max took over 2/3 of the sofa as usual, and Lowenna discovered the best way for her to fit on was to lie directly on top of Max.
On Monday Lowenna was scared to go outside because there was an Alsatian very far away in the distance who she is for some reason terrified of. She wasn't really okay until Max came over and demonstrated that outside is safe.
K&M came for her in the evening, and after about an hour of sitting around and talking with Dave, ignoring Wenna's barking, she suddenly realised Dave is not actually a threat, and brought him a toy to play tug with. Hurrah! Then she went home.
Sunrises and Max time.
Hung out with and fed Maud and Jess over the long weekend. Mostly Maud. Jess put in a couple of token appearances, but soon realised I wasn't going to let her outside while her human was away and resumed her usual state of sulking in the airing cupboard. Maud, on the other hand, is a tiny zooming blur of affection and excitement. Though she forgot how to eat, and only managed it if I hand-squeezed food from the pouch directly into her mouth, or handed her one tiny biscuit at a time.
Market day! First trip into town in at least three weeks. Pizza from Roastie Toastiez on Pathhead beach. Max kicked sand into it but it was still good. Later: Max tried on my new tea cosy for size.
Last night was an enormous blood moon.
Finally getting up closer to sunrise again. Motivated this week by those planets that were supposedly aligning, but cloudy horizons meant I didn't manage to see the spectacle. Still, it's always worth rising early for coffee on the beach.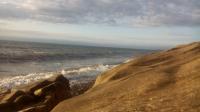 Adventure day! the main goal was to scout fields for St George's mushrooms, or tufty grass ring evidence thereof, but there were none to be found. First walked around Balbirnie Park in Glenrothes. Then to Falkland. Cake and coffee and lunch at Pillars of Hercules, before a couple of hours walking around Falkland Estate. Saw friendly bluetits and robins, amazing shell-like bracket fungi, enormous hundreds-of-years-old fallen trees ravaged by honey fungus, tree art, the ruined Temple of Decision, the Bruce monument, the waterfall at Maspie Den.
A week of astonishingly beautiful days. Walked into town a couple of times, and mornings on the beach of course. Enjoyed a quiet cove off Ravenscraig Park for a while, before heading back to Dysart beach for a dunk in the sea.
A quick detour through some woods on the way to Perth and.... spent the rest of the afternoon there. Just a few agates. Canny tell ya where.
Max time, a couple of walks into town (coffee at Black Cat Cafe), braw days and grey days.
Beach walkies. Max was getting in the way of mowing the lawn so we put the seedling-protector over him. He was happy. Wagging for a new ball access challenge.
Cutting rocks.
A few hours in Buckhaven, helping CLEAR out with a plant and local produce sale and gardens open day. Then a walk through the woods to admire the bluebells. Found a few dryad's saddle, but not a lot and nothing else.
2.5 hour each way trip on a bus full of football fans, was worth it to hang out with J and F in Glasgow and get tasty lunch at Mono, doughnuts at Tantrum, and fancy half price hot chocolate from Hotel Chocolat.
A week of sunrises, blue skies, and nice walks. Some big waves in the mornings. A longer-than-usual visit from Stagecoach.
Dinner at the Wee Buddha with Co-op colleagues in Edinburgh. I've always wanted to eat here, and it lived up to expectations!
Early starts, but most day snot as early as I'd like. Did catch a couple of sunrises though.
Hanging out with Max by the sea.
Some Dysart sunrises.
A great brunch in Roots & Seeds in Kirkcaldy.
An adventure to Bowhouse market and Pittenweem with K, K&M and Lowenna. Too blowy to swim (except for Lowenna), but we had hot chocolate in Cacao Tree and Lowenna was a super good girl.
Braw mornings in Dysart.
Sunny the morning before the solstice, then cloudy and drizzly for sunrise on the solstice, of course. I sat resolutely on the beach in the rain at dawn with my coffee, just like last year.
Another try at solstice-adjacent sunrise was better. Walked to Wemyss, cleaning the beach on the way, then harvested wild rose petals, which grow there in great abundance.
Coworked in Edinburgh with JL, KA and MW; we had lunch at Holy Cow. Then had another fab dinner with JB, MW and J at Wee Buddha.
Mostly braw mornings this week, besides the actual solstice.