Fife 2021
Life in Fife.
Contains 1480 photos, the last of which were added 1 year, 25 days, 16 hours, 18 minutes, and 16 seconds ago.
The tiny demon came for a little beach walk. Her second ever walkies! She likes other humans, but not so much other dogs (she has it backwards..)
An icy walk along the Fife coastal path at Seafield.
Beach run at Seafield, and some clambering on rocks. Edinburgh was shrouded in a mist which reflected pink and orange in the sunset. You can see Arthur's Seat poking out in the distance.
We walked to Kinghorn Loch, out along the coastal path and then back inland through fields. On the way we met a little friendly robin. It was much icier on the way back than anticipated, so took longer. The loch is lovely, very well kept surroundings and nice places to sit.
Walks along the promenade (one day the grey sea and sky blended together perfectly) and around the beach at Seafield. Snowy sand, icy air.
Icy sunset Seafield beach walkies.
Got the keys to my new flat. Started cleaning / fixing / dismantling but then the boiler gave up and had to pause everything.
The coldest week in the UK since 1995 or something? It snowed a lot, the sea was furious, and everything froze solid repeatedly. It was a terrible week to not have a boiler, and to have to keep going back and forth between opposite ends of town with every step an icy hazard. But it was very pretty.
On Seafield beach at sunrise, for a change. Breathtaking.
Another sunrise start (pictured from Linktown and Dysart) for boiler replacement.
And finally moved! Celebratory cake and surprise Indian food (from The Tiffin) pictured.
Biked into town for veg and it was a beautiful day but ugh I do hate cycling. Sat on Ravenscraig beach to eat a plum to recover.
The next time I just walked. Dave and I spent a day cleaning the old flat, before handing the keys in, then walked all the way back and ate ice cream on our new beach (stoically ignoring the rain) to celebrate.
Caught some obscured sunrises from the new flat.
Discovered Health Foods & More to be a treasure trove of vegan treats and eco household stuff (I thought it was just supplements and alternative medicine)!
Dysart is still so so cute, I feel like I'm on holiday every time I go out. As long as I stick to the coast/port part of the village, I can't even tell I'm in Kirkcaldy..
The sun lures me out for procrastawalks when I should be working. Who am I to resist. Also found a nice nook to read in. And cool rocks on the way to West Wemyss.
More photos of hanging out on the beach, sunrises, and the moon.
Walked to Burntisland. Nice to sea Seafield again. The water in the bay at Burntisland was still like glass.
Got up early for a walk around Ravenscraig with K. Went out again in the afternoon to check out cool fossils and throw the ball for Max. Climbed to the top of a very tall rock.
Started taking my coffee down to the beach first thing in the morning regularly.
Walked to town and back in record time (30 mins) yesterday to grab something before shops closed. Enjoyed the imminent sunset from Ravenscraig; the air was so fresh, and distant Arthur's Seat in shades of pink and blue stole the show.
Short walks and sitting on the beach around Dysart and Ravenscraig.
Walked to Buckhaven and back along the coast (12 miles). Stopped to look for/at fossils. Really beautiful rocks at Buckhaven that look like watercolour paintings, in blues, yellows and purples. Threw the ball for Max; lost one ball but found two more. Saw a curious little mink in the rocks at Buckhaven.
A beautiful week in the Kingdom with amazing sunrises and lots of time in the sun on the beach and in gardens.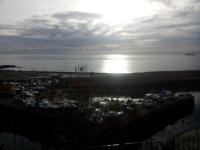 Daffodils and morning beach coffees. The first of my seedlings sprouted.
More pictures of daffodils and the beach in the morning. One evening of snow.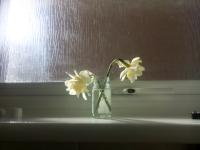 A walk through Dunnikier Park, litter picking in Dysart harbour, plus the usual ambling around Dysart and Ravenscraig. An exciting walk into town and lunch from Kangus.
Lowenna came for beach walkies! And made friends with Max. She did her best in the sea. She's so big and sleek now, and distinctly less demonic then when she was tiny.
Early mornings on the beach at Dysart. Astonishingly warm. I still can't believe I live here sometimes.
Also featuring: many slugs rescued from local lettuce in my kitchen.
Started the day with an hour and a half of picking up rubbish on the beach on the way to West Wemyss. Then found some really beautiful spots in the woods between Dysart and Glenrothes. A pet cemetery, an old bridge, an epic gate, and many wonderful trees. GPS trace.
A warm week with longer and longer morning beach coffees. Also one evening sitting on a rock under the supermoon, with the tide further out than I've ever seen it.
Also pictured: takeaway from Koku Shi because of Co-op NoGM.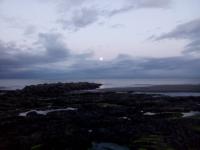 A couple of days of strong winds and lashing rain. Big waves completely rearranged the beach, almost burying the rock I sit on in the morning. Nothing to teach you anicca like the sea.
A day in Glenrothes, mostly raining, but the sun blissfully came out in time for me to eat my lunch in a stone circle in the middle of a housing estate. Glenrothes is surprisingly pleasantly walkable.
The photo of me is making chapati in the Greener Kirkcaldy Lang Spoon community kitchen.
Misc quiet beach time. And a trip to Edinburgh to try on a wetsuit (too small), pick up Chinese supermarket groceries (many kilos) and take meetings in Ewan's office (Tara helped). Dave tested his wetsuit. The kayak arrived and we played shed tetris to get it in.
A glorious gallivant with K around the coast to the East Neuk. We visited a lovely secondhand shop. I bought a wetsuit in Elie, then we went to the recently restored Victorian sea pool in Pittenweem for a bracing swim. In Pittenweem we also found vegan cornish pasties and fantastic fancy chocolates and hot chocolate. The chippy alas was closed but we were saved by the chippy in Elie. We ate in the scenic grounds of a BT exchange because it was too much hassle to find a space to pull up at the coast, and were rewarded with bunnies and cool spiders.
Zoomed to Burntisland on the bus for a Grain and Sustain run. Then helped K rescue an amazing bath that was being thrown out down her street. We wheeled it back to be used as a herb garden. If that wasn't enough action for one day, I hung out on ladder duty while she cleared ivy from the shed roof, and later had to hop a fence into a school field with the ladder to perform an elaborate rescue onto more accessible ground.
Glorious mornings and evenings on the beaches. Can't believe I live here.
Found an excellent crate. Finally picked a bathroom sink cabinet at Furniture Plus.
The sun is back.
Summer in Dysart. Dad and Ruth came to visit. Lunch in Anderson's.
Took Dad and Ruth to the craft fair in West Wemyss. It wasn't very exciting, but they were happy. I walked back along the beach while they took the bus.
Dysart summer.
A morning swim from Dysart beach with Dad. An afternoon jaunt to Largo.
More summer in Dysart. Fancy dinner with Dad and Ruth in the Duchess.
Surprise (to Dad, not to me) visit from H.
Outing to the Pittenweem sea pool, and the chocolate shop of course.
Beach ambling, and H's departure after sibling lunch at Koku Shi.
Misc Dysart/Kirkcaldy.
K and I went to an open garden and plant sale in Falkland. It mostly poured down, so we marched around in raincoats and wellies, before retreating to Pillars of Hercules for coffee and cake. We did manage to buy some plants though.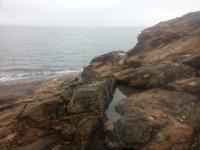 Aberdour castle and cemetery.
Dysart beaches and a couple of pics from an Aberdour foray.
That one time I managed to get out on the kayak. I retrieved a ball that a dog couldn't get. Photos by Dave, most of them from his own kayak adventure down to Wemyss.
Dad came back. I took him to Furniture Plus, and against all odds we got a chaise long into his car. Also to Harbourmaster's Cafe.
Inside Ravenscraig walled garden (Greener Kirkcaldy volunteer social bbq).
The Oak Pond in Wemyss woods, and the beach on the walk back.
Procrastabeachwalking.
A day out to investigate various woods around Fife. Lunch from the market in Cupar. A quick stop on Tentsmuir beach.
Ice cream in East Wemyss on the return from apple harvesting in Buckhaven. And the sunset, earlier and earlier.
Sunset, sunrise, sunset, sunrise, never ending glory.
Climate protest at Seafield.
Hunting for agates in fields near Norman's Law, and a stop for chips and local history in Newburgh.
Max days.
An amazing full rainbow in view from Dysart. And some sunrises and Max time.
Another amazing sunrise, with Max and K. In the evening, I went with K and R to see Merlin Sheldrake talk in St Andrews. We got chips on the way back from East Wemyss - just in time.
Sunrises and Max time..
Rock hunting in Orrock Quarry. The clouds hung low and heavy, muting and distorting all sound. The mounds of stone formed an alien landscape. The air was damp and cold. The light disappeared quickly, and we had left late to walk from Dysart. The country roads weren't lit, and there was no way we would make it over the hill to Burntisland in total darkness. We pressed on to Kinghorn instead, and ate extortionately priced chips while we waited for the last bus home.
Sunrises in Dysart. A little visit to Lowenna.
Set out on the motorbike for a brief jaunt to St Monan's, then back to Buckhaven to load up on apples. But the search for a nonexistent secondhand shop in St Monan's dragged on, time advanced faster than expected, and we found ourselves having to choose between chips in East Wemyss and an extremely rapid apple pick. We went for the former and regretted nothing.
Mum came to visit. We adventured around Kirkcaldy, to Burntisland, and visited Dave at work in Aberdour. Got rained on a lot, but walked a lot anyway.
An incredibly braw day. A cracking sunrise (spent an hour and a half on the beach), blue skies all day, and a stunning sunset (popped out to the post office then got sidetracked by sitting on the beach for another hour and a half). The sun was warm and the moon was full and glowing.
Great big waves, but Max doesn't mind, he is part fish.
Sun showed up for just long enough for morning beach walkies.
Sunrise in Dysart, and a walk to Wemyss to pick up rubbish, out through the woods then back along the beach. Met a nice cat.
Sunset on the walk back from Wemyss (with 13.5kg of oyster mushrooms).
A braw sunrise, as usual. NYE feast from The Tiffin.