Albania, Mar-Jul 2020
Sarande under curfew, plus escapes to the Riviera and mountains
Contains 1662 photos, the last of which were added 1 year, 10 months, 29 days, 16 hours, 35 minutes, and 40 seconds ago.
A beautiful day in Zagreb; food at Vegehop and Oaza Joyful Kitchen, as well as vegan supplies from Bio & Bio and another new nearby bio store. Then back on the bus(es) all the way to Albania.
I spent my first weekend back in Albania in Tirane. A good opportunity to eat out at Veggies, as well as grab a few more vegan supplies that are less available outside of the city. I found Edinburgh's Chocolate Tree chocolate in a bio store! Then on the bus to Sarande.
Arrived in Sarande, a seaside town that is quiet at least at this time of year. Explored the area, sat by the sea, ate Albanian food at te Beoua.
A walk up to Lekursi Castle with views over Sarande and towards Ksamil.
A torrentially rainy weekend inside, but the views were still nice. The balcony cover has blue sky and clouds pattern on the inside to make you feel better. Walks into town when there was a gap in the clouds.. cafe working, visits to some old ruins, and a pizza at Limani. Found a bakery that sells somun, and burek with spinach or potato! Good to enjoy by the sea. At the somun with homemade grah.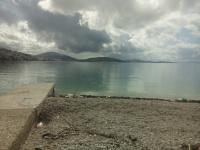 Went for a hike around the coast to the north of Sarande. There's very quickly not much there. There's a rough road to follow for quite a long way, although the sea itself is only accessible in a few spots because the cliff is quite steep. There are lots of cows, and a few secret beaches.
Hiked from Sarande to Ksamil, along the coast as much as possible. Some of this was trails, some was scrambling through undergrowth or over rocks or through the edges of hotel property or construction sites. Took detours to as many beaches as possible, until energy was low. Here's the train on RunKeeper.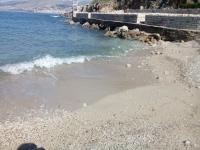 A slow day, recovering from the hike, just exploring beaches in Ksamil (on runkeeper). It's a quiet town with no tourists, beautiful but for unfettered construction and lots of unfinished buildings too. You can swim to the islands, when it's warm enough.
Saw a few people out in masks and gloves, and police were bellowing something through a loudspeaker.
Walked from Ksamil to Butrint, about an hour. No trails around the coast, so mostly just went by road. The ancient city of Butrint is a tourist attraction, and was closed by sudden government coronavirus measures. As if there'd be anyone there at this time of year anyway. A local at a nearby hotel pointed me towards a hole in the fence behind his property. Had thought I might hike around the area a bit and take a bus back, but it quickly became apparent the local buses had stopped running too. On the way back, detours to some other bits of the coast, and other beaches in Ksamil I hadn't been to yet. Route on runkeeper.
Hiked back to Sarande from Ksamil (on runkeeper). Stopped by the beaches I missed on the way down. Found some under-construction super fancy houses and accidentally trespassed. Watched the sunset from my new balcony.
Isolation in Sarande: photos of the sunset from my balcony, the floofy doggo on the balcony in the next building, and the little bit of beach in front of my building. Some gratuitous spinach byrek by the sea when I went into town for essential things like a SIM card.
Photos from the balcony from a week at home..
Sunsets and crochet progress from another week of lockdown.
Another week of lockdown, sitting on the beach in front of the building, and crocheting a lot.
Lockdown restrictions loosened a little bit and I went for a longer walk, into town then back the 'scenic route' which took longer than expected and gave me sunburn.
I made a bag that is way too big and stretchy, but surprisingly robust. I really enjoyed the star stitch.
I finally finished my first ever crochet jumper! The holdup was being indecisive about putting sleeves on, but eventually I put half length ones (because typically I roll sleeves up to my elbows anyway). I started with this DROPS Design pattern, but started messing with it at once: I changed the hook size, yarn weight, sized the smallest size down a bit because I wanted a tight fit, changed the flower motif for dragonflies (which took an hour of crochet maths and pattern sketching on paper), changed the main body stitch from a loose double crochet with gaps to the trinity stitch because I like the tension, look, and it's a fun stitch to do a lot of. On the bottom edge I did some little puff stitch 'flowers' too. My sized down version only took about 170g of yarn :o which is less than 2 balls. It fits well, is perfect for temperate summer evenings, or keeping warm in my very heat-proof apartment, but a bit too cosy for wearing out in the sun (even without the sleeves - which is what made me decide it needed sleeves in the end).
Just the usual sea and crochet.
The sea the sea the sea and crochet. Temperatures went right up, I swam every day.
Travel restrictions lifted a bit, so.. small roadtrip up the coast, to the mountains. Driving through the towns along the Albanian Riviera presented lots of places to stop on the way back. The roads is windy but mostly well maintained, except for occasional sudden cobbled bits or abrupt narrowings. Many cute villages built into vertical hillsides. Amazing views.
A hike through Llogora national park. Climbed Maja Thanasit, from where you can see Italy on a clear day. It was not a clear day. Could barely see the sea. The mountains are beautiful though, and the air was fresh and cool. The trail was well marked, for the most part, and terrain was easy to moderate. Loop on RunKeeper.
Post-hike trip down to the nearest beach.. Back down the intense mountain side switchback of Llogora Pass, and back up again, popped my ears and gave me searing pain later that evening. It passed eventually, though a week later my hearing still isn't properly back.
The beach at the bottom of the pass is Palase, but it was lined with a construction site and wasn't very accessible. The next one along is Drymades/Drimadhe. Very little there but probably busy in a non-pandemic summer season. Overcast but cool enough to swim.
Waking up in the mountains again, surrounded by cloud. A short hike to Caesar's Pass, where Julius Caeser marched his armies in pursuit of Pompey (GPS trace); views intermittent.
North to Orikum, through the valley village of Dukat. The beach at Orikum is long and white and empty. The bulk of the town is inland, so it's quite peaceful on the coast; a bit desolate in fact. Then south again, back down the Llogora Pass for the last time.
A detour for a walk to Gjipe beach, which is accessible by boat, along a narrow winding canyon path, or a long winded but gently sloping coastal path (I took the latter - GPS trace). It's a beautiful small beach, which I could have spent longer at, but night was drawing near.
Onwards to Himare, where I met some cute small doggos, fellow stranded travellers, and a mediocre pizza. Himare is a seaside town, perhaps the heart of the Riviera for tourists, and very Greek. People speak Greek in the streets, and fly the Greek flag all over. There are three beaches and a lovely boulevard. It's backed by mountains, and there are excellent hiking trails around.
Hike from Himare to Jale beach via Livadh (GPS trace). Spent a lazy morning in the hostel due to heavy rain, chatting to the volunteers (also stranded travellers) and the wee doggos. The sky cleared with enough time left in the day for the hike to Jale beach around the coast. It's a nice trail. A long stretch is across Livadh beach, in the next bay around. Got to Jale just in time for the rain to come down again, and hid away in the only beach bar open to wait it out. It didn't stop, so in the end I just had to get soaked returning to Himare, where I was greeted by a finally clear sky and warm sunset.
A few minutes drive around the coast from Himare is Porto Palermo, a quiet bay with a castle on a little island. For 200 Lek I got to explore it, plus a rapid and hard to follow, but enthusiastic, description of the castle's entire history and use by Ali Pasha Tepelena from the guy selling tickets. There are a few signs inside, and pictures. There is also a nice little-used beach nearby.
Borsh beach is the longest one on the Albanian Riviera at about 7km. It has lots of hotels and restaurants along it, but nonetheless feels quite calm. Perhaps it was because the season, delayed by pandemic lockdown, hasn't really started yet. There are also bunkers and caves.
Borsh village is divided into three parts: the upper (Hori), middle (Vanja) and coast (Shkalle). Apparently they don't like each other.
High above the Borsh coastline is a castle! It's ruined and free to enter, after climbing a surprisingly well-kept winding path. The views over the coast and mountains are incredible. Definitely one of my favourite castles.
Along the main road, in middle Borsh, is a restaurant set over a series of small waterfalls, Ujvara Veranda. It's loud but very cool, and a great place to stop for a coffee (freddo espresso!), which I did.
Finally, back to Sarande for a night in my own bed.
Just 20 minutes drive outside of Sarande is the Blue Eye, Syri i Kalter. It's a natural spring over 50m deep - divers haven't yet found the bottom. It's incredibly clear and blue and cold. There are distinctive beautiful blue dragonflies there.
Permet is a small town, two hours inland from Sarande. They have "everything besides the sea", they say, and it's true. A clear blue river runs through the center, with rocky beaches on each side. There's a big rock, which you can climb for fantastic views of the town. It's cooler than the coast, surrounded by mountains. The town center is full of cute cafes, nice restaurants line the river, and it all comes alive at night.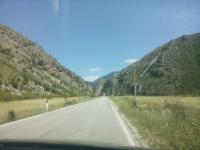 A short drive or a 3 hour hike up the mountain from Permet, you find the thermal pools of Benje. They're not hot, but they're not cold, so very nice to sit in for a while. There are 6 pools, artificially made around the natural springs where you can soak up different healing minerals (apparently) and enjoy the mountain views and air.
After an evening visit to the pools, I returned to the town for dinner at Trifilia, which featured many 'wild' 'mountain' things (cabbage, herbs..)
A hike across the top of the canyon at the Benje, which none of my photos capture the epicness of. Once away from the main pools, there are no people at all. After a couple of hours (GPS trace) is a serene spot with small waterfalls and naturally forming pools (though these are cold).
Back at the thermal pools, but further into the canyon - where most people can't be bothered to venture - can be found smaller thermal pools. Stayed here, had a picnic and a soak, until almost sunset, before returning to Permet for dinner at Antigonea. Finally fasule! And some delicious mountain herb byrek. The waiter, with all good intentions, tried to bring a fish on the house.. People are so friendly.. it's the thought that counts :)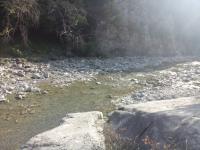 Last stop: Gjirokaster. An historical mountain town about an hour away from Sarande, with a massive castle (400 Lek, plus 200 more for 3 museums inside), a beautiful twisty old town, and a totally different vibe from the coast. Lunch at Taverna Traditionale, which was amazingly friendly and delicious, fresh from the oven, and included vegetarian kofte! And a specially made byrek with spinach and no cheese on the house, and some free fresh fruit for dessert as well.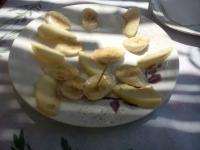 A week at 'home'. Some nice sunsets on the beach near my building, plus some good storms. Met some extremely smol kittens nearby.
Spent the week off working on the v-stitch sweater which was super satisfying to work up, then finally seamed the two parts together. I really like it. Started on some shorts to learn a version of the pineapple stitch. My yarn and hook were wrong so they're too big, and obviously so lacy as to be only beach-appropriate, but it was a good exercise.
Getting out of the house a bit more, because the Watch Fixing Man kept telling me to "come back tomorrow". Found and swam at some new small beaches. Located new yarn supply! Sampled freddo espressi in several coffee shops. Freddo espresso is best espresso. Crocheted socks.
A new crochet project, labelled 'intermediate', alternating rows of Y-stitch and shells which is interesting, and I love my new 3.5 crochet hook... but it's coming up way too small so I'm going to have to abandon it.
A couple of trips into town for byrek and freddo espresso. Swimming from the rocky beach near home, and the nearby pier of Santa Quaranta. Normally at this time of year the pier would be packed; lined with cars down the middle, and packed on both sides with sunbeds and umbrellas. But the hotel resort is barely open, the sunbeds aren't even out, and just one or two people come to sunbathe on the pier.
Crochet projects this week (that were actually finished): a 'peace sign patch' and a wave stitch headpand. I also started a yellow summer top but for some reason haven't taken any photos of that yet.
I met Banksy the dog and had the first hummus I've had in WEEKS at Salad Farm across the road.
Went to the beach, for sitting around and swimming, and out for early morning byrek and cafe working when the internet went out on a work day.
Aaaaand paddleboard yoga! At 7:30 in the morning. I didn't even fall in, and it was a beautiful day so I rented the board for an extra hour to pootle around the bay some more.
I finally got around to taking a photo of (almost) everything I crocheted during lockdown. Just in time to leave most of it behind.
I played with some new combination stitches, and really like an openwork lace one that looks like spiders or palm trees. Decided to combine it with the alternating shell and Y-stitch rows to adapt a cardigan pattern; that's the green in-progress one.
Picked up more soft yellow yarn to finish a summer top, which actually fits properly and is really nice. I'm keeping this one.
Got up really early and took the local bus to Ksamil. It's about a 15 minute ride, and the bus wasn't full, but nobody understands how to wear masks properly. It's 100lek (0.80eur).
Walked over the hill for a view of the lake, before heading back into town for coffee by the sea. Even by 8-9am it was pretty busy. Shoved through some crowded beaches to find a quieter spot, without loungers and umbrellas, then swam from the shore to one of the furthest out islands. Swam for about half an hour. Sat on a small empty beach that was only accessible by sea, and with the main beaches out of sight, could have imagined there was nobody else in the world.
Swam back, then went for pizza. Puzzled for a while over where the cafe would cook the pizza - figured their kitchen must be just out of sight. Half an hour later a pizza guy on a scooter turned up. It was a decent pizza though.
Took the bus back after lunch.
Making the most of Sarande (still). Some lovely tranquil swims, finding new secluded beaches, weekly paddleboard yoga, and some visits to Salad Farm across the road.
Just some more hot AF days in Sarande, balcony-working when the breeze allowed, sitting in the sea the rest of the time, and snacks at Salad Farm and Te Beqoa.
Some Sarande expats drove out into the countryside at Finiq to look for the comet. We didn't see it, but we had a nice picnic under the stars.
Salad Farm roasted cauliflower is amazing, by the way. (But needs to be modified to be vegan.) Also in true American style, the lemonade is bottomless.
An evening hike up to the Monastery of the 40 Saints, which Sarande was named after. It's 200lek to look around, if there's somebody there to take your money, and mostly just ruins but the views over the city and the sea, and towards Ksamil to the south are lovely.
Finally finished a cardigan I started ages ago. I made up the overall pattern, just putting together some stiches I like that look like butterflies and spiders/palm trees. I made liberal use of half double crochet which is my favourite basic stitch, and had just enough yarn for sleeves that reach almost to my elbows.
Drive from Sarande to Tirana airport, then flight along the beautiful Adriatic coast, over the alps, across France and the Channel...