Albania, March 2020
Tirana, Sarande, Ksamil, and Sarande under curfew..
Contains 608 photos, the last of which were added 8 days, 20 hours, 3 minutes, and 33 seconds ago.
A beautiful day in Zagreb; food at Vegehop and Oaza Joyful Kitchen, as well as vegan supplies from Bio & Bio and another new nearby bio store. Then back on the bus(es) all the way to Albania.
I spent my first weekend back in Albania in Tirane. A good opportunity to eat out at Veggies, as well as grab a few more vegan supplies that are less available outside of the city. I found Edinburgh's Chocolate Tree chocolate in a bio store! Then on the bus to Sarande.
Arrived in Sarande, a seaside town that is quiet at least at this time of year. Explored the area, sat by the sea, ate Albanian food at te Beoua.
A walk up to Lekursi Castle with views over Sarande and towards Ksamil.
A torrentially rainy weekend inside, but the views were still nice. The balcony cover has blue sky and clouds pattern on the inside to make you feel better. Walks into town when there was a gap in the clouds.. cafe working, visits to some old ruins, and a pizza at Limani. Found a bakery that sells somun, and burek with spinach or potato! Good to enjoy by the sea. At the somun with homemade grah.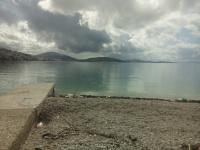 Went for a hike around the coast to the north of Sarande. There's very quickly not much there. There's a rough road to follow for quite a long way, although the sea itself is only accessible in a few spots because the cliff is quite steep. There are lots of cows, and a few secret beaches.
Hiked from Sarande to Ksamil, along the coast as much as possible. Some of this was trails, some was scrambling through undergrowth or over rocks or through the edges of hotel property or construction sites. Took detours to as many beaches as possible, until energy was low. Here's the train on RunKeeper.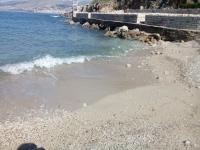 A slow day, recovering from the hike, just exploring beaches in Ksamil (on runkeeper). It's a quiet town with no tourists, beautiful but for unfettered construction and lots of unfinished buildings too. You can swim to the islands, when it's warm enough.
Saw a few people out in masks and gloves, and police were bellowing something through a loudspeaker.
Walked from Ksamil to Butrint, about an hour. No trails around the coast, so mostly just went by road. The ancient city of Butrint is a tourist attraction, and was closed by sudden government coronavirus measures. As if there'd be anyone there at this time of year anyway. A local at a nearby hotel pointed me towards a hole in the fence behind his property. Had thought I might hike around the area a bit and take a bus back, but it quickly became apparent the local buses had stopped running too. On the way back, detours to some other bits of the coast, and other beaches in Ksamil I hadn't been to yet. Route on runkeeper.
Hiked back to Sarande from Ksamil (on runkeeper). Stopped by the beaches I missed on the way down. Found some under-construction super fancy houses and accidentally trespassed. Watched the sunset from my new balcony.
Isolation in Sarande: photos of the sunset from my balcony, the floofy doggo on the balcony in the next building, and the little bit of beach in front of my building. Some gratuitous spinach byrek by the sea when I went into town for essential things like a SIM card.
Photos from the balcony from a week at home..
Sunsets and crochet progress from another week of lockdown.
Another week of lockdown, sitting on the beach in front of the building, and crocheting a lot.
Lockdown restrictions loosened a little bit and I went for a longer walk, into town then back the 'scenic route' which took longer than expected and gave me sunburn.
I finally finished my first ever crochet jumper! The holdup was being indecisive about putting sleeves on, but eventually I put half length ones (because typically I roll sleeves up to my elbows anyway). I started with this DROPS Design pattern, but started messing with it at once: I changed the hook size, yarn weight, sized the smallest size down a bit because I wanted a tight fit, changed the flower motif for dragonflies (which took an hour of crochet maths and pattern sketching on paper), changed the main body stitch from a loose double crochet with gaps to the trinity stitch because I like the tension, look, and it's a fun stitch to do a lot of. On the bottom edge I did some little puff stitch 'flowers' too. My sized down version only took about 170g of yarn :o which is less than 2 balls. It fits well, is perfect for temperate summer evenings, or keeping warm in my very heat-proof apartment, but a bit too cosy for wearing out in the sun (even without the sleeves - which is what made me decide it needed sleeves in the end).
Just the usual sea and crochet.
I made a bag that is way too big and stretchy, but surprisingly robust. I really enjoyed the star stitch.
The sea the sea the sea and crochet. Temperatures went right up, I swam every day.