UK, Jan & Feb 2020
Edinburgh, Cornwall, and in-between; #kitparty and Kit's wedding.
Contains 478 photos, the last of which were added 2 years, 4 months, 15 days, 16 hours, 54 minutes, and 25 seconds ago.
Nightbus from Cologne to London, breakfast in London, then a train from London to Manchester for a day and a half of Co-op stuff, and eating of course. Then onward to Edinburgh.
I spent a weekend in Sofia to break up my bus journey from Turkey to the UK. Just chilling, cafeworking, and eating, with a visit to the Museum of Earth and Man which is full of shiny rocks. Food at Edgy Veggy, Sun & Moon, Dreamhouse and Satsanga.
Then the long haul to Cologne, via Arad, over a couple of days.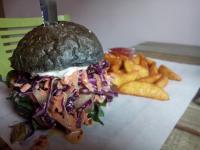 I convened a gathering of some people close to KitB, to treat him to a fun long weekend before his imminent wedding. The concept of a 'bachelor party' is pretty gross, so we called it a Stag Don't or the #kitparty. On the first day we stayed in Edinburgh, ate at Snax and ConsiderIt, and went to the Camera Obscura. I didn't have high hopes, but it turned out to be awesome. The views from the tower are great, and the silly museum of illusions is surprisingly good. We most enjoyed the Vortex and the Hall of Mirrors, and ended up spending more than 2 hours there.
Then we all took a train to Dunkeld & Birnam, a little village an hour and 40 mins north of Edinburgh. I fell in love with the place. It has hills and waterfalls and vast ancient forests, and a secret vegan food scene. We walked around the area, ate a lot of course, and chilled and played board games in our hostel (Jessie Mac's). On the 25th we cooked ourselves a Burns Supper. I'd definitely consider moving there.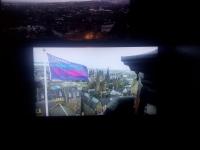 Time for a trek to the other side of the country for KitB and M's wedding. I took the train to London (dinner with TomSka) then nightbus to Penzance. I picked up (or they picked me up) some of Kit's family members (including Pedro the poodle) and we picked up pasties and boxes of other wedding stuff, and drove it to St Austell.
The venue was a beautiful grand house on the beach. I took my Best Man responsibilities as seriously as possible, helped with unpacking and setting up and organising, did a lot of washing up, made many pots of tea for two dozen people, and most importantly, de-panicked KitB as necessary.
At midnight before the ceremony, Kit was messaging me for help with his vows, mixed with barely coherent notes about all the other things that needed doing the next morning. We ended up working on his vows in an etherpad, and I took responsibility for remembering and delegating all of the other stuff.
There was a great wedding planner to help too with setting up the furniture and decorations. All of the guests from both families eagerly chipped in. It's nice to have a group of people who are keen to have tasks delegated to them, and everything got done on time. I made sure Kit got dressed, and ironed his pocketsquare, and didn't lose the rings. 15 minutes before the ceremony we were both hungry, and had an emergency crumpet in the kitchen.
It seemed all of a sudden that it was time for the ceremony to start. I didn't realise that the Best Man stands at the front with the Groom while the Bride and her father walk down the aisle. It felt like I was giving Kit away. There were about 25 guests. The ceremony was backed by big windows and a sea view, and led by the local registrar and an eccentric family friend. M started crying almost immediately, so I did too.
There were lovely readings, and lovelier vows, and paperwork. We all went outside to throw confetti, then the professional photographers took Kit and M down to the beach.
The meal after the wedding was amazing. A four course vegetarian meal, with the vegan versions being almost identical. I will never forget the rhubarb and white chocolate pavlova. I even got a vegan cheese plate! During the meal there were beautiful emotional speeches. Very emotional. Kit and M's families are so loving and proud of their kids. I wrangled out of doing a speech thanks to Kit's siblings both volunteering instead.
We spent the rest of the evening playing board games. Some people danced. Kit and M had their 'first dance' when nobody was looking (except me, see photos).
At about 7pm we ate wedding cake, and at 9 we had pasties. I ate too much.
The next day some people left, but many stayed. We played more board games, and ate chips. I did a lot of washing up again.
I'm looking forward to the professional photos.. stay tuned.
St Austell to London by train. Food with friends, and wandering around Camden. Almost missed the train back to Grantham because I stopped for a not-chicken sandwich at Temple of Seitan, but worth it.
Food (including a 3 course Gregg's meal) and jigsaws and pool with Mum, then departure once again.