Turkey, Jan 2020
Bursa, and thereabouts.
Contains 315 photos, the last of which were added 2 years, 5 months, 9 days, 21 hours, 15 minutes, and 53 seconds ago.
New Year's Eve with my new friends from CouchSurfing. We watched Putin's speech and stayed up all night talking and playing games like jenga and charades. I slept (eventually) in a bed shaped like a car.
At the weekend some of them came to Misi for breakfast; we walked around the village, then took a trip to the lake at Dagyenice. We (they) built a fire, roasted chestnuts and made tea, and played with the local ducks and dogs. It was a wonderful afternoon.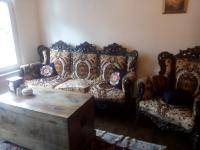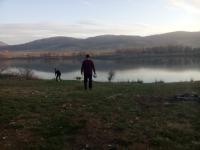 The Bursa 1326 Panorama Museum, which is a big dome painted on the inside with a scene of (I think) the founding of the city. It's surprisingly cool! Entry is 5tl (less than €1) and there's all kinds of interesting cultural stuff inside the building too. When I went in there was a traditional drum and dance performance happening.
I also wandered past the Ataturk House museum, and through Kulturpark and Merinos.
I finally went up Uludag on Bursa's epic cable car. It takes about an hour, with a change half way. At 105tl (about €16) it's expensive but well worth it. The views are incredible (I managed to get a clear day), and it's a relaxing ride. If you pick your times well you can get a cabin to yourself. I spent a few hours at the top, wandering around through the snow, watching people ski and sled, and drinking tea in a cosy cafe. It's a ski resort at the top with a lot of hotels. If you're less lazy than me, there are some wonderful hikes as well that can quickly take you away from the bustle of the touristy area. And chairlifts to take you to the very peak.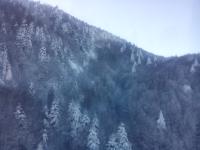 My last days in Bursa came all at once. I squeezed in some more museums - the Ataturk House (which is nice to visit but has no signs or information, just furniture and pictures, and took me all of 5 minutes to go around); the Archaeology Museum (which has plenty of info in English and is as good as archaeology museums always are); the Textiles Museum at Merinos (which is in an old textile factory, and incorporates a lot of interesting social history about the local industry as well as technical information and old machines); and the Immigration Museum (on the top floor of the Textile Museum; not much in English, but fascinating exhibits all the same).
I worked from Good Call and At Kafe. I spent my final night in Gorukle at the meeting of Bursa Speaking Club, saying farewell to all of the amazing people I met this month. I stayed over at Juli's and in the morning Fatih came over to make us delicous soup for breakfast. What a sendoff!
In the Mado cafe by the bus station, I discovered a vegan ice cream menu; they didn't have any of course. The last thing I did before I got on the bus was eat cig kofte... of course.