Ayvalik and Lesbos, Jan 2020
Trip to the Turkish coast and brief return to Greek island of Lesbos
Contains 144 photos, the last of which were added 2 years, 5 months, 14 days, 20 hours, 46 minutes, and 2 seconds ago.
I missed the coast, so went to the sea! Via a 4.5 hour bus ride from Bursa to Ayvalik. There, via CouchSurfing, I met a beautiful cat and a beautiful human who let me stay in their home for a few nights, even when my plans went slightly squiggly due to weather.
Ayvalik is lovely and I came so close to staying there instead of Bursa, and may have made a slightly wrong choice, but now I know I can go back for longer in the future.
I reconnected with another couchsurfer who I'd met in Bursa, and we walked the two hours or so around the coast to the island (connected by bridges) of Cunda, which has a charming seafront and view of Ayvalik. It was very windy and gloomy, but that made coffee at the other end all the more welcome.
The ferries were still running from Ayvalik to Lesbos! Only a few a week, and the one I wanted to take got rescheduled due to wind. Anyway I made it, Eleni (from last year!) met me in Mytilini, we ate pancakes, then took the bus to Petra where I stayed again in my favourite seaview room where the ocean rolls constantly. The next day I worked from there, then went to stay at Eleni's house in Filia and hang out with her family. We ate many good things and I'm so grateful for random connections that turn into lasting friendships :)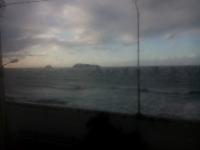 Return ferry to Ayvalik where the weather was beautiful again, a day of working with a sea view, a nice breakfast with my host, and a return bus to Bursa.