Turkey, Dec 2019
Istanbul and Bursa
Contains 877 photos, the last of which were added 2 years, 5 months, 27 days, 3 hours, 18 minutes, and 55 seconds ago.
Goodbye Bulgaria... hello Istanbul! Arrived on the nightbus and sleep-worked at cafes and hung out in Gulhane Park. Ate cig kofte by the port.
A walking tour in Istanbul. Visited the Hippodrome (ancient chariot racing stadium) remains, including some very old granite pillars that have survived major earthquakes. Through the old town, the grand bazaar and spice market, and views across the city from the Suleymaniye mosque. A delicious, hearty and cheap lunch at Vegan Istanbul, which felt surprisingly very local.
A 30 minute wait in line to climb Galata Tower. The views were worth it. Then a walk to Taksim Square, and far too many sweet things. Ended the day with a visit to Cemberlitas Hammam.
A packed day of touristing. Went into Hagia Sofia to see epic architecture and mosaics. Around the corner is a small complex of Sultans' tombs, which I only found out about because of signage inside the Hagia Sofia grounds, but actually you can enter there for free from the street. To the extensive underground Basilica Cistern, which doesn't take long to explore but is definitely worth a stop. Lunch at Community Kitchen which is full of cats (and delicious vegan food). The Museum of History of Science and Technology in Islam is really interested and full of cool stuff. Then the ferry to the Anatalyan side of the city to catch the end of a vegan food festival at Hos Atolye.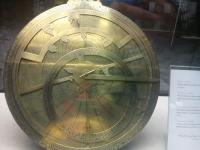 My last day in Istanbul. A slightly rushed tour of Topkapi Palace and the Harem. I'd probably go again, even though it's a bit expensive, there is a lot to see in beautiful grounds. Then hasty cig kofte and the 2 hour ferry to Mudanya, Bursa.
I moved to Misi, which is a small village just south of Bursa. There are old houses, a river, and many cats, dogs, goats, chickens. I moved into an old house heated only by a wood burning stove. I didn't have huge success with this, and temperatures are dropping, so I built a quite excellent blanket fort in my bedroom. But eventually my host relocated me to a place down the road with central heating. Bursa's two vegan cafes, Good Call and Vegan Kantin, are both on my side of this sprawling city, so that's handy. On a nice day I walked. Otherwise I can take the bus into town.
The air was pretty clear today, and it was warm but windy. I went into the city center, the old part of Bursa, Osmangazi by bus then metro. I found the Grand Mosque (Ulu Cami) and Koza Han, which was busy with people drinking coffee in the courtyard. Nearby a giant line of people waited at a lokma truck. I sat on a bench to watch what was happening. Finally the line began to move as a new batch of lokma was ready, and everyone was handed a bag for free. No wonder the line was so long. I wasn't sure if there was a qualifier though, and was too shy to join, even though I really wanted lokma... I thought I might try again later, but by the time I got back there they were packing up.
I wandered into the main bazaar, which is adjoined with many sub-bazaars, partly covered, for miles and miles. I let myself get lost in there for three our four hours. There's everything you could ever need.
I stopped for cig kofte for lunch, mid-afternoon, at Adiyaman near Kayhan market. Cig kofte is usually vegetarian; typically if a place only sells cig kofte, it's safe. Doner places selling it might sell a meat version. A.. is a chain, though I haven't seen as many of them around as Oses or Lagash, and their logo even says 'vegan food' in it on close inspection. This one was a small place but had upstairs seating. A friendly guy guided me upstairs and took my order. A cig kofte durum and tea set me back 6TL, or less than one (1) Euro. It was a relief to sit down for a bit.
I dove back into the market, determined to actually buy something. Eventually I emerged with dates, dried fruit, olives, and wool. I walked to a park which contains a giant dome which warrants further investigation in the future. Then to Yesil, the area with the Green Mosque, Green Tomb, and all manner of other green things. I also visited the Irgandı Bridge, which is a bridge covered in small local artists workshops/stores, but they were mostly closed up by the time I was there.
I followed the tramline back to the Grand Mosque, then Zafer Plaza, Balibey Han (a traditional crafts market over several floors, mostly closed by then) and up to the viewpoint from Tophane as it got dark.
I managed to drag myself outside before noon, and caught the bus, metro and another bus to the cable car base station (Teleferik) which took about an hour. On the way I stocked up with simit and cig kofte, in case there was no food at the top of Uludag Mountain. The cable car was closed though. It didn't say why, but later I checked their twitter and it was because of strong winds. The winds were indeed strong. So probably for the best. As far as I know there's no other way to get up the mountain though if you don't have a car, or are part of a coach trip, or want to pay for a taxi. But anyway, the cable car was most of the point of this adventure.
I was in the vicinity of the Cars and Carriages museum though, so I wandered over there. It's set in a really nice grounds with some archaelogical ruins. The museum itself is small, and was free today (no idea why - there was a cash desk but nobody there and the security guard just waved me in). There's not much written information, but lots of old carriages to look at, and diagrams. Around the corner is a 500 year old hammmam which contains a museum for weights and scales. That was also free, and super cool! I recommend.
Next I walked to the City (Kent) Museum. That was also free, what a day, but had no information in English at all. It's pretty sizeable, and was quite busy. I walked around all three floors looking at the pictures and exhibits. It would definitely have been a good 'un if I could have ready anything.
I wandered back through town, took a quick look by Koza Han in case there were free lokma again - some ladies were packing up, but not the food truck this time. I stopped inside the Grand Mosque (Ulu Cami) which was very peaceful despite all the people, and beautiful in a serene way. I stoped by Balibey Han but the shop I want to visit in there was closed again. I took in some more views from Tophane, in daylight this time.
I walked to the Kulturpark, which is a big green space with fun things to do if you like doing fun things, like pedal boats or drift karts, or a ferris wheel. There are nice views of the mountains around the city. I sat by the lake to eat my cig kofte, before catching the metro and the bus back home.
The bus driver took me on a merry fucking ride, not stopping in the village. It was the same bus I always get so I have no idea why. He kept talking to me and obviously I couldn't understand anything. I just told him 'Misi'.. and he went up the mountain a bit and then back down. Then he seemed to be going the right way, but veered off again.. and eventually another bus came in the opposite direction, and he talked to the driver then switched me over. That one did stop in Misi. Pretty frustrating though. But I got free lemons from an old man outside the mosque on the way home, so that made up for it.
I visited Agora market in Nilufer, having heard that is a good place to buy a second hand coat, and wow, what a market.
In a shocking turn of events, I voluntarily went to a place with snow. Some people posted on couchsurfing.com that they were going to stay in a wooden house on the mountain (Uludag), so I joined them. It was beautiful, but cold. The house was cosy once the fire was lit, and we spent most of the time eating and talking. We went for a short walk in the snow. I don't have appropriate shoes, but wrapping my feet in plastic bags worked fine. Not many amazing views, because it was pretty cloudy.
On the way back to the city we visited a 610 year old tree, and had coffee and gozleme there. Then we ended up staying out late for dinner in someone else's apartment. I missed the last bus home, so I stayed over chez one of my new friends in Gorukle, and the next day we had breakfast at veggie cafe At Kafe (more gozleme).
Photos from Uludag weekend, taken by Mounaim.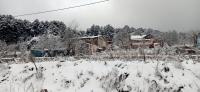 Photos from Uludag weekend, taken by Juli (or someone else with Juli's camera).