Prague, Sept 2019
Conferences and eating in Prague.
Contains 225 photos, the last of which were added 2 years, 9 months, 4 days, 20 hours, 40 minutes, and 11 seconds ago.
A week in Prague, mostly attending RWOT9 and APConf, and catching up with the local vegan food scene.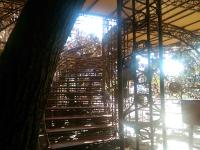 Cafe working and wandering in Prague. A walk up Petrin Hill and around the castle, and sunset from Vitkov Hill.
Food at the Donut Shop, Loving Hut(s), Dhaba Beas, Blue Pig Donuts, Mama Coffee, Vegan City, Blatouch, and a very exciting trip to Vegan World supermarket.
Touristing in Prague. Prague City Museum (history ends before 18th century though) and views from Old Town Hall tower.
A last week of cafeworking and eating and wandering in Prague. Featuring amazing donuts from Blue Pig, pizza and burgers from Chutnej, healthy lunches and cake and good wifi in Forrest, the best seitan bagel in the world from Moment, unbelievable vegan junk at Belzepub, fancy dinner at Plevel and delicious brunch at Satsang.