Spain and France, March 2019
Barcelona, Girona, Andorra, Nice, Monaco.
Contains 646 photos, the last of which were added 3 years, 3 months, 6 days, 16 hours, 34 minutes, and 15 seconds ago.
Barcelona. A little touristing, more eating, but mostly time spent at the Rebooting Web of Trust 8 conference and the Verifiable Claims Working Group meeting. It was a productive and fun few days, but the most exciting part was getting the entire VCWG to a fully vegan tapas bar (called BarCeloneta, by the beach) two nights in a row (people asked to go back!)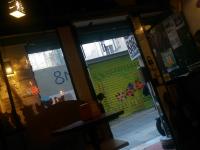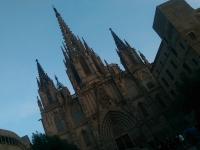 Post-conference deflating in Barcelona. A Digital Bazaar field trip to the epic and alien La Sagrada Familia, and a ride on the cable car to the castle. And some more vegan restaurant tours.
Then couple of days almost by myself. I joined the International Women's Day march through the city; it was a huge crowd, and so young. Much public transport was shut down.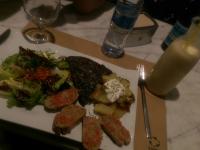 Went north to Girona. Walked the medieval city walls.
Rented a car in Girona. Drove back to Barcelona.. and the deeply suspicious Badalona.
An amazing daytrip to Andorra with wonderful new friends. Epic snowy mountains, snowball fights, and a route back through France via a thermal bath.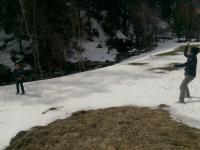 The next roadtrip from Girona, to Sa Tuna bay. Time on the beach, scrambling over rocks, beautiful views in a tranquil place.
The final roadtrip from Girona to beaches near Blanes. It was warm enough to go in the sea, but not warm enough to stay for long.
Next, to Nice.
Which is expensive, and busy, and the beach is chalky. Enjoyed the sunshine, and hiked up to the fort with a view of Villefrance-sur-Mer.
A day trip to Monaco from Nice. Took the bus out for 1.50eur and about an hour, and returned by train for 4.20eur, 30 minutes. Just wandered around, looked at the fancy apartments crammed against the cliffside, the superyachts in the harbour, and ate beans and bread on the beach. Expensive ice cream amongst tourists in the Montecarlo old town. Sat for hours by a clear ocean. Kind of a strange place.
A last day in Nice, mostly sitting on the chalky beach, and eating too much vegan Chinese buffet. Caught the bus out from Nice Airport, where I discovered no fewer than four companies who will rent you a helicopter in Monaco..