Greece, Jan 2019
Lesvos and Syros
Contains 683 photos, the last of which were added 3 years, 4 months, 15 days, 15 hours, 50 minutes, and 8 seconds ago.
Rains and storms and wind and rainbows and more rain, and always always the ocean crashing.
A mini roadtrip with Eleni and Dmitris to see the northern part of Lesvos. We drove along the coast from Petra, through a stunning landscape of crashing waves on one side and dramatic sheer rocks on the other. We found wild hot springs, and could see snow on the mountains in the distance. It got significantly colder and windier as we arrived to Skala Sykaminias. This is a cute tiny village that is mostly empty in the winter, but it's clear how easily you'd fall in love with the place in the summer. There's a small white church on a rock, the Church of the Virgin Mermaid.
We drove back through the mountains for a different view, and stopped in Molyvos for coffee. Molyvos, too, is an unbelievably small town. Nobody is allowed to change their houses from the traditional look, so they're all stone and old looking, clustered along narrow winding streets all packed onto the side of the hill with the castle on top.
Eleni and Dmitris took me to Sigri, to visit the museum of the petrified forest. It was a rainy windy day, so we didn't walk around the area, but the museum is worth going to. The trees are 20 million years old! They were turned to stone by falling ash from a nearby volcano, and eventually buried over the centuries. I thought of The Broken Earth. The different kinds of trees produce different colours and patterns. Some of them are really vibrant reds and pinks. There are many 'in the wild' but they are gradually being uncovered and brought to the museum, or covered in clay to protect them, as the weather will destroy them. I wonder if nature should take its course.. and question the point of holding onto these ancient things that would disappear otherwise.. But also seeing 20 million year old trees is cool.
On the way we stopped at a monastery on a hill, with great views obscured by clouds, but still enough to see the sea.
It was a blizzardy day, and the power went out. I was in the middle of working so I went to Tsalikis cafe on the hill, around the bay from Petra. I got pretty rained on, but was lucky to miss the worst of the wind storms that were coming in and out on the 45 minute walk. The views should be amazing, but sometimes while I was inside all of the glass windows were just white. The clouds parted in time for a great sunset though.
With a heavy heart, I packed up and departed Petra. Eleni and Dmitris drove me to Mytilini, about an hour from Petra, then spent some time showing me around. We saw inside an old hammam, and some churches. The main street felt bustling compared to Petra's quiet streets and my peaceful solo hikes over the month. We ran some errands, got some supplies and had a final lunch together.
After they left I went to the port to get my ferry ticket, and was told it was late, but nobody knew by how much. I checked into my hostel, which is just a house, and run by and funds towards one of the organisations that helps refugees on the island. Then I went for a wander around to the water and the castle, and finally for dinner at Nan, a restaurant which also helps (and employs) refugees.
I woke up at 6 to head to the port, and got slightly chased by an aggressive small dog who I found out the night before had recently bitten one of my hostel dorm roommates. So that was terrifying.
The ferry was only an hour and a half late in the end, and a friendly young couple helped me understand this, and what was going on when it announced the location of boarding had changed (just shunted a short walk around the port).
Then I spent 12 hours eating only figs and biscotti (thanks Eleni and Dmitris), sleeping, reading, and looking out of the window. I didn't have any other food because the last ferry I'd been on (this exact route, but a different part of it) had some vegan bean dishes on the restaurant menu, so I thought I'd 'indulge' in overpriced mediocre ferry food. Apparently that changed in a month though, and now there was nothing for me to eat. I tried to take a photo of every port we stopped in, which was a lot of them, and mostly the photos are through the grimy window. The weather was pretty good, I went outside in the sun a couple of times.
I developed a pretty bad headache and was feeling a bit sick by the end. Very glad to arrive.
My host picked me up from the port in Ermoupoli, Syros, and welcomed me with a mini tour, a thousand details about my apartment, and spanakopita :D (spinach pie). This place is across the bay from the city, and the views are amazing.
My first day on Syros was gloriously sunny and warm. I went for a walk around Ermoupolis, starting at the town square, then around the port and through the medieval Ano Syros up the hill to the Catholic Church of St George, then to the next hill which is topped with the Orthodox Cathedral of Saint Nicholas. I walked the long way around through hilly fields and sparse residences of Alithini.
Having neglected to bring any food or drink out with me, when I got back to the city I collapsed in a random cafe on the corner of the main square. This turned out to be all veggie, with several vegan pastries and foccacia, an extensive smoothie menu and a lovely atmosphere. I recouped with a juice and potato pita, then went to get groceries before heading home.
Some sun, some unseasonal rain, wandering around the neighbourhood, visits to Corner Cafe, new catfriend.
Lightning storms and lazy days and Zizi destroys the sofa when she comes in and stares at me through the window from the rain when I don't let her in I'm not strong enough for this her liddle face.
I hiked from Ermoupoli to Kini, then Delphini and Varvaroussa. Read about it here.
Met the Syros Hiking Team today and went for a walk and a clamber in the north of the island. The distance covered was short but the elevation was pretty varied. Some vertical rock scrambling up and down to cross the valley. We stopped at the Kastri, a 4,500 year old set of ruins; walls from a bronze age settlement, an ancient castle, and tombs. There are artifacts from this area in museums all around the world.
Then we had lunch in a tavern by the marina. On the way home I stopped by the ruined building at the bottom of the hill in Lazareta; it has been a prison, a quarantine for people with contagious diseases, and an orphanage. Now it's falling apart and overgrown, except a tiny bit of it is a church.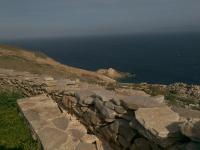 It was a hot sunny day and the wifi went out, so I went for a wander around a bit of Ermoupoli I hadn't been to before, around the coast to the north. Also stopped off at the Archaeological Museum, which was very tiny and took under 10 minutes to read everything, but only costs €1 and there was nobody else there.
I squeezed in a final hike with the Syros Hiking Group. We went to Ano Meria, the north of Syros, and hiked from Kampos to the western coast. We visited Marmari beach and Amerikanou beach. The latter is the only beach on the island with trees, planted by an American visitor in the 70s. He also built a couple of houses up there; it's pretty remote.
We ate lunch in Black Sheep, by the Ermoupoli port. Vegan souvlaki! Mushrooms and grilled vegetables on skewers, and fresh homemade fries. Pretty solid end to my month on Syros.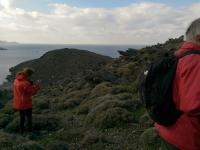 Packed, cleaned, and vacated my fancy flat in Lazareta. I caught the ferry from Ermoupoli port, and it was about 4 hours to Athens Pireaus. After checking into my new place in Koukaki, I went out again for some late night spanakopita and a great hot chocolate at Veganaki.