Latvia, Oct 2018
A month in Riga.
Contains 374 photos, the last of which were added 3 years, 7 months, 25 days, 18 hours, 10 minutes, and 28 seconds ago.
A weekend in Riga with Claire, touristing and eating. We saw the old town, spent too much time in the market, and took a train for an evening stroll along the beach in Jurmala.
Food at Bhajan (wholefoods, custom cakes), Wok n Kurry (emergency Indian food, exceptionally helpful staff for gluten-free options) and Terepija (astonishing Sunday brunch buffet).
Some days peacefully enjoying Riga.
Coffee and cake and laptop time at Miit Coffee, which is a fantastic space, plenty of room to work, welcoming to hipsters and digital nomads, and serving fantastic vegan cakes and veg*n lunch offers, and pure coffee snobbery. They have quinoa milk for lattes too.
I went to a very small flea market in some reclaimed abandoned space, hosted by Free Riga. The market wasn't very exciting, but the buildings and area were cool.
The War Museum turns out to be free, and is very detailed and I spent a good two hours there. A great way to spend a rainy afternoon.
The sun came out in time for me to cross over the bridge by the Castle, then walk along the river and return over the one near the library. The former has a terrifying/hilarious tiny lift which you control by holding down a button. I didn't know what would happen if I let go, and was scared to find out.
Wandering and eating in the Old Town... food at Rama (cheap hearty veggie Hare Krishna buffet), Bahjan (high quality super delicious vegan food in a calm environment), Miit (hipster coffeeshop chic; cracking vegan burgers and pizzas in the evenings), and Fat Pumpkin (slightly overpriced upscale vegan dining).
Library tourism in the National Library of Latvia, which is full of interesting stuff and has great views. Probably better on a sunny day. Fantastic place to work, and not too busy either.
Then pizza at L'Acquerello, a cake break in Salada Terepija, and some cathedral interiors.
Lunch and extended laptop time at delicious Bahjan Cafe. Great breakfast plate. Extreme cake.
Last minute walk to the TV Tower as the sun came out, which turns out to close at 1900! Lucky. Only €3.70 to enter, and a friendly tour guide escorts you up. It's going to be closed for renovation soon and will reopen in a few years as a totally new beast. For now, there's nothing up there except for the views.
More Riga wandering. Interesting buildings. Food at Rama and Miit (twice).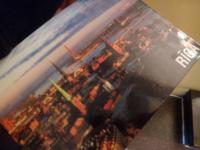 Last days in Riga.. mostly eating. Featuring: Salada Terepija and a whole day in Miit Coffee.