Lithuania, Sept 2018
Klaipeda (including the Curonian Spit), Kaunas and Vilnius.
Contains 1113 photos, the last of which were added 3 years, 8 months, 21 days, 31 minutes, and 16 seconds ago.
A day cycling along the Curonian Spit (~40 miles) near Klaipeda in Lithuania. Great beaches, forests, dunes, and small towns.
Photos from around Klaipeda; old town, and beach to the north. Lots of sculptures.
First day and a half in Kaunas; new town, old town, rivers, parks, churches, sculptures, forts, castles. Food at Holy Donut and Arbatine.
Slowly taking in Kaunas. Walking around north of the river; bridges, doughnuts, construction, doughnuts, the river is beautiful during a clear dusk.
Doughnuts from Holy Donut, notdog from ManGi, soup and patties from Zalia Pupa, pizza from Mamma Pizza.
Walk to the Kaunas Botanical Gardens. Peaceful, as expected. About an hour and a half walk from the city center. I sat in a greenhouse and read for a while. Two weddings happened while I was there.
Stopped by Akropolis Mall on the way back, which is entirely ridiculous and bigger on the inside. Dinner at MasalaCiti, delicious kofta.
A walk to the Vytauto old Soviet theme park (still brightly coloured and functioning, but much smaller than expected, and then around Oak Grove. Stopped at a random cafe, Kregzdute, for lunch because my hostel-friend was hungry, and was surprised by several vegan options on the menu; obviously I had to try something to show demand.
We continued on for a long long walk along the beautiful riversides that snake around and through the city, until we got back to old town.
Dinner at Hare Krinsha restaurant Radhaarne.
A few days of food.. amazing Indian-Thai fusion and Moksha; a healthy burger at Zalia Pupa and delicious homecooked veganised Lithuanian classics at Arbatine.
Today I walked to the IX Fort (via the VIII Fort). A historical defense structure, one of many around Kaunas several hundred years old. It was used for horrific things by the Nazis and the Soviets in the 1930s to 1950s, and served as a prison before that too. Today it houses two museums, and on the grounds is a striking Holocaust memorial. One museum tells the stories both of those who survived their experiences in the Fort, and those who did not, as well as the wider context of WWII and the Soviet occupation of Lithuania. The other details the history and construction of the Fort, and the other things it has been used for over the centuries. There's also artwork.
It was a very hot day. I walked back along the river, and stopped for some bargain junk food on the way.
I went to the Kaunas City Hall Museum, which is a big church-y looking building in the central old town square. It didn't look like much on the inside, just some furniture and grandeur, and no displays so I immediately started to regret paying €2.50 to go inside. But then! A hilariously nervous but smiling and enthusiastic dorky man appeared to talk me through everything I was seeing. He opened secret doors that looked like the wall and lead to spiral staircases to other rooms or the balcony up the tower. He emphasised that all the furniture is old and authentic, and described all the things politicians did in all the rooms. I think he thought I was much more excited about the history than I was, because I was so entertained by his mannerisms. Then he pointed me to a basement / former prison; I went down and he didn't follow. This one was full of signs, more like a normal museum. Lots of archeology and history stuff too. So in the end, very cool. Still only took about 15 minutes in total though.
Wandering through the old town I stuck my head into every other church I passed.
Then I went to the Castle Museum, which was also €2.50 and hecka disappointing. It was really small, I guess. In the top of the tower is a very nice photo exhibition of doors that look like knight helmets and people holding cut-outs of them up to their faces. But apart from that, I wouldn't bother.. just walk around the outside of the castle.
Then I went to the massive white church which looms over all of Kaunas from the hillside. The Church of the Resurrection was, I believe, started in the couple of decades of independence Lithuania had between the World Wars, but not finished, and only cleaned up and purposed as a church in the early 90s. It's € 1.20 to climb the stars up the tower to the massive roof terrace, which is worth it. Probably the best views of the city from here. I stuck around and read for an hour or so.
It was hot, so I wrapped up my day by heading to the island park and reading by the river until the sun set.
On this day I went to the Vytautas the Great War Museum, where Vytautas is great, not war. Lithuania has been involved a lot of wars, and they are all very well documented here. It also contains the genuine wreckage of the record-breaking but ultimately unsuccessful plane Lituanica (the only time a member of staff spoke to me during the visit was to express to me that the wreckage is the original, in German eventually after trying three languages I didn't understand). The whole museum was still smaller than I expected though, and I was disappointed the tower is closed. It's a big, grand building. Probably worth the €2.
Then I went to the National Art Museum around the corner. This is way bigger than expected. I'm not really into art galleries, but this had a lot of interesting cultural, historical stuff in as well as exhibits. The main artist is Čiurlionis who paints awesome abstract alien landscapes. I got a free audio guide because it was his birthday. This one is €4 but turned out to be pretty great.
A late lunch at Arbatine.
The Pope was in Kaunas today. So were 100,000 people to see him. I went by the castle park to take some photos of the crowds, saw the Pope on the big screen in the old town square and got a fleeting glimpse of the popemobile. Lunch in the ever fantastic Arbatine.
A walk. I found a library, and the 6th Fort, and parts of Kaunas technical university campus.
I was bound for Kaunas Lagoon Regional Park. A giant reservoir some two hour walk from the city center surrounded by trees, trails, beaches and preserved areas. I angled my approach to arrive at yet another a historical fort by the water. Some of the trails on maps.me are not so functional in real life. I ended up following a railway track a little way, before coming upon construction work carving out a new highway. Recent rain meant the whole place was extremely muddy. I scuttled along grassy embankments as best I could and also got stuck in and covered with mud on a number of occasions, whilst passing digger drivers watched me with amusement. I found the fort, but not before getting lost in a bit of swamp, and climbed damp and rickety steps to get up and down the mound that remained.
I stopped for lunch on a small bit of beach, just in time for the skies to open and drop everything they had. I waited it out under the roots of a tree protruding from the side of a cliff. Watching and listening to giant raindrops spreading in waves across the vast surface of the water.
I wanted to track south, to reach the grounds of the Pazaisliui monastery, but to reach a trail I'd have to go back the way I came, through the muddy construction site. I didn't fancy that, especially not after a further downpour, so I decided to try following the coast around. This involved occasional undergrowth scrabbling or wet feet as the beach gave way to foliage but by and large worked out.
I found the monastery (which is closed to visitors on Mondays) and by then the sun was well and truly out. It's a great domed building, set in grounds of well kept parkland that anyone can use.
I headed back to town along the river, and then through Basanavicious park.
The day wrapped up with a well earned pizza roll from Mamma Pizza and a fight with a disappointing 'freak shake' from Holy Donut.
Lazy last day in Kaunas. Checked out the library on Laisves Ave and wished I'd had time to spend there. Discovered I'd overbooked one night at Monk's Bunk but they gracefully gave me a refund. Food at Ridikas on the train platform, the train to Vilnius..
Three days of cafe-working (and eating) in Vilnius. It has been cold, but the city seems nice at night. Food options are good. Also a hostel rave.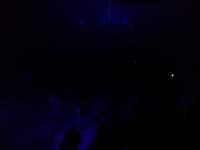 I walked through town, along the river, the long way to Vilnius TV Tower. There are lots of steep climbs through forest and nice views on the TV Tower side.
The TV Tower itself is kind of disappointing given the high price (€9). There's no separate observation deck, only the restaurant, so you have to kind of hang around the windows in between the tables. There's also not much of an exhibition. A few photos and notes about when it was attacked by the Soviets, and in the grounds some cool old satellite dishes. But compared to Tallinn, not even close. Obviously the view is good. Though no good angles to take photos from, and not much annotation about what you're seeing.
The river and park surroundings are nicer. I got a bit lost in the woods on the return and scrambled down a hillside that probably shouldn't have been scrambled down, to get back to the river. Then I crossed over to Vingio Park and walked through to the Botanical Gardens. The park is more civilised than the other side of the river, but still broadly woods. There's a stadium and some other human things there too though.
Back into town to end the day with pizza at Pizza di Ascari.
Day trip to Trakai, Lithuania's number one domestic tourist destination. The town is squeezed between two large lakes, and features castles on islands, and an absolute butt-ton of interesting anthropological history.
The bus from Vilnius is €1.80 and takes about 30 minutes. They go pretty regularly so you don't need to plan much, just show up at the bus station. The bus station in Trakai is out of town, but Trakai ain't big, so you can walk to the other end in 30 minutes or so if you go directly.
I ambled around a bit and stopped for lunch on the lakeside, eventually making it to the big Island Castle. The entry is €8 which I thought was steep so I tried to wrangle a half price student ticket. No such luck. The museum is quite extensive, which detailed history of the area from the 1200s or so. There are also collections of artefacts, old and modern, and lots of information about the dereliction and restoration of the castle itself. Disappointingly access to the higher towers of the castle doesn't seem to be available. It was all very full of tourists. I spent a good hour and a half here though.
Then I ambled back through town, dropping into one of the big famous churches which was very ostentatious. I found the Karaim museum (€2 or €1 if you have an Island Castle ticket), which is tiny but suuuper interesting about this very small minority people, a few hundred of whom Vytautas the Great 'brought' over from Crimea in the 1400s and then.. built a town for. Having trouble figuring out exactly why or what happened here, even wikipedia isn't saying much. I guess records from then are sparse. There aren't many of these people left in Europe now - not that there were many to begin with - especially since Soviet stuff and Nazi stuff. Those who are are pretty well concentrated in Trakai, with others in Vilnius and Warsaw.
I went to the Trakai History Museum (€3) which is somewhat in the Peninsula Castle grounds, but is disappointingly tiny and doesn't contain anything castle-y. At some point a monastery was built there, and the museum is mostly if not entirely about Dominican monks, and has lots of Jesus-art.
The sun came back out so I took a €5 boat ride around the wee islands. I learnt stuff from the short audio commentary; this was definitely better value than the History museum.
Then I followed the coast back around to the bus station. On the way I detoured to check out some abandoned buildings I'd seen from the boat, which may or may not have been derelict Soviet concrete monstrosities. GPS trace for wandering around Trakai.
Back in Vilnius I made a beeline for Gyvas and had a cracking 'no-fish' tofu burger (wrapped in nori and deep fried!).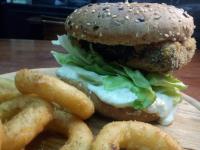 A walking tour of Vilnius, including the independent Republic of Uzupis, which has lots of art, its own parliament and a constitution printed in many different languages on the wall, and a general hippie vibe. Then I walked around the castle and nearby hills, including the Hill of Crosses, before lunch in Rosehip Cafe.
I detoured through some gardens on the way home, where I met an old lady (70, 75, she couldn't remember) who has lived her whole life in Vilnius and was delighted to have someone to talk to for a while (3 hours). She used to be an English teacher, and soon start repeating her stories and the questions she was asking me. She was a bit muddled too about whether her parents were dead, or if she still lived with them. She said she lived in her house in Vilnius her whole life, her parents had, and her grandparents before them. Her brother and sister had families and moved out, but still live in Vilnius. We had delightful chatter about dogs, the Pope, and Vilnius in general, on something of a loop. She invited me into her house when we got there, but I declined. She took out a hairpin instead of a key when it came time to lock the door. She wanted to walk me home too, and we went a bit further, but I managed to persuade her to go home before it got too dark and cold. She wrote down her name and address for me, and made me promise to call her without giving me a phone number. Her name is Dalia. You know, the same as Dahlia, the main character in my current nanowrimo novel who I named in January and isn't exactly a common name. Coincidence? Divine intervention?
Last days in Vilnius, mostly cafe-hopping. The park/pedestrian area through the center of town has a special lane for mobile phone users..
Then a bus to Riga.