Estonia, Aug 2018
Most of a month in Tallinn; also Tartu, Parnu and Helsinki.
Contains 796 photos, the last of which were added 3 years, 9 months, 23 days, 5 hours, 41 minutes, and 40 seconds ago.
A few days in Tartu, walking all through the old town. Including the university campus, botanical garden, Toom hill with cathedral ruins, a swim in Anna Kanal mini-beach, and Supilinn, the Soup District. Tartu has lots of statues, sculptures and ancient houses, all well signposted with the history and interesting facts.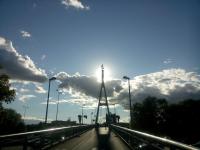 Arrival in Tallinn. A walking tour, and getting locked in the City Library.
The closest beach to where I'm staying is a small one called Russalka beach. A little further around the coast is Maarjamäe Park, with a big obelisk, some Soviet-looking concrete statues, and lots of open space. This leads to hilly and wild Paekalda. On the way back towards town is Kadriorg, with Kadrioru Park containing a vast palace estate with fancy buildings hundreds of years old, and beautiful grounds; also home to various museums.
To the ferry ports, and around the coast to Linnahall - an enormous Soviet concrete structure. The interior is closed but the exterior is available for clambering all over. There are great views out to the ocean, and little scrappy beaches nearby. It's beautifully dystopian.
The 'culture kilometer' starts here, but I diverged from the path to follow the cost, and saw the abandoned Patarei sea-fortress prison which is also pretty dystopian.
The culture kilometer ends in the Kalamaja district which people keep saying is the hipster area. It's behind the train station, and full of nice wooden houses and cute bars, artisanal stuff and street food.
An evening run through Kadrioru Park and a little beyond.
A walk to Stroomi beach for a swim in the sea. Then a long trek around the coast through Paljassaare wildlife conservation area which is absolutely beautiful and contains many tranquil spots for swimming and an amazing variety of flora and fauna.
To the Estonian National library, only it was closed (with me on the outside this time). A wander around nearby parks.
Food at Vegan Inspiratioon. A potluck in the Toompark with local and visiting vegans.
The National Library of Estonia. A nice place to work, good seats and corners, epic architecture.
Night wandering around Tallinn old town.
I walked around the coast to Pirita; a little over an hour. After the harbour is a ruined convent. Usually it's accessible, but there were restoration works or something when I went and it was closed. It looks pretty cool though.
I walked through the woods to the Botanical Gardens, which was further than I expected. I detoured through some nice modern cemeteries.
The Botanical Gardens are beautiful and serene, and well worth a visit. A combined ticket with the TV Tower (which is next door) is €15, or separately they're €5.50 and €13 respectively.
The TV Tower itself is also really worthwhile. It's super high with fantastic views for a start. (If you go on a day with poor visibility, you can get a stamp on your ticket which lets you come back for free any time! I didn't have this problem though.) It's a wonder of Soviet concrete glory, and was largely built by 'volunteers' (unpaid workers..?). Inside on the ground floor is a detailed exhibition of its history and construction. At the top in the main dome are changing exhibits. I saw futuristic clothes designs from a local fashion school, and an electronic interactive set of displays about Estonian digital innovation and current day e-infrastructure.
There's also a restaurant at the top, and an outdoor balcony.
On the way out after the gift shop is another exhibit about life in Estonia in Soviet times which was really well done and informative.
Then I walked a different route through woods and cemetery to Pirita beach. I stopped for food at Vigri, a vegan buffet with an amazing cake selection, which is in the large boat-shaped building at the harbour. Then I chilled on the beach with a book for a few hours, and swam in the sea, before walking back.
I met V and his couchsurfer M and we went to Telliskivi creative city. There was a flea market and music and foodtrucks and general festivities. We found vegan doughnuts. We showed M around the old town, and went up the tower of St Olaf's Church, the tallest building in Tallinn - it doesn't look like it, but none of the skyscrapers downtown are taller (you can tell from a distance). They're not allowed to be. Entry is €3 and it's a dizzying narrow climb.
We wandered around Linnahall and around the coast to Seaplane Harbour. For a change the boats were open for climbing in, and there was a stage with musicians. It was the Night of Prehistoric Lights, when every coast around the Baltic Sea and further afield are lit up with bonfires and celebrations. We watched the sun set, and sat by the fire for a while.
Misc, and lunch at Vegan Italy.
Hair update. Channeling Beth a bit. It's warmer tones than I was going for but apparently purple shampoo and time will make it grey-er. Or a second round of bleach.
Last night in Tallinn; a sunset walk to Paekalda.
(And the stuff I left for Red Cross.)
The ferry to Helsinki from Tallinn (and a late night).
Helsinki? More like Hellaexpensive, AMIRITE?
Wandering around the coast, checking out cemeteries, Finnish National Museum during the 2 hours a week it's free, free walking tour, free accommodation and didn't buy tickets for the trams.. and still spent too much money.
And a ferry back to Tallinn.
Coming back to Tallinn after two days in Helsinki felt like returning home after a long voyage for some reason. So I stayed an extra night than planned, and went to Parnu in the morning. Enjoyed pizza on the Linnahall at sunset, and breakfast in the market from Toormoor.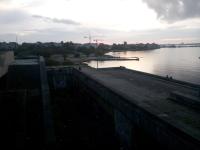 A day in Parnu, south-west Estonia. Nice beach, some jolly good swamps, cute town center and one vegetarian cafe that I went to for dinner then breakfast (Piccadilly Wine and Chocolate). Then a bus out, Riga-bound.