UK, Feb & June 2018
London, Lincoln, Stickford, Edinburgh, for various reasons.
Contains 247 photos, the last of which were added 4 years, 10 days, 25 minutes, and 28 seconds ago.
Sarajevo to London, via Cologne, on two Flixbuses.
An afternoon at the Southbank Center. Food at Nando's for Jamie's birthday.
Visiting family, Tigo, Pingu the cat, Lincolnshire countryside.
A day in Lincoln with Alan and Pete.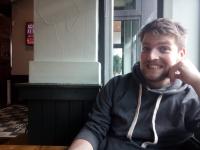 A few hours in Amsterdam, and transit to London.
Dave's birthday, much food.
Birb selfies.
Dinner with Dave and Dad.
Edinbraaaahhhh.
Food at Snax, Herbivore Kitchen and Holy Cow; wandering near the Castle, Holyrood, and Forum.
A walk through Holyrood on a sunny day. The Museum of Childhood; St Giles Catherdral; wandering through town.
Buffalo 'wings' from Land of Bourbon; doughnuts from ConsiderIt; soup from Forest Cafe.
Random Edinburgh, featuring vegan froyo from Frisky, the Suffragette March, and antics in the Hoose.
Sandy and Louis bffs4eva.
Misc London, featuring food chez Laurel, chez Polly, at Piebury Corner, Bijou, and Vegan Yes. And transit to Dover.