Copenhagen, Oct 2017
A long weekend in Copenhagen, Denmark, with Ninni.
Contains 186 photos, the last of which were added 4 years, 8 months, 9 days, 6 hours, 27 minutes, and 54 seconds ago.
The bus from Sarajevo to Denmark, via a couple of hours in Berlin and a ferry, only takes two days.
Eating my way through my first evening in Copenhagen with Ninni.
A morning run around Copenhagen's lakes. Avocado rye toast.. I'd forgotten what it was like being in a real city. A wander around the city center and indoor and outdoor markets. Lunch at Bahn Mi.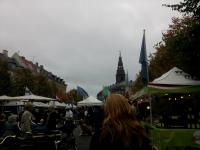 Ninni had a party, then stayed out until 8am (I didn't). The last photo is: I fetched her a veggie burger and fries for 'breakfast' before she went to sleep.
I walked 12 miles around Copenhagen, through various parks, the Kastellet, the Little Mermaid, to Christiania for great vegan food, mega hippie vibes, and a walk in the woods, and back via Rosenborg Castle gardens.
Green Burger for Sunday dinner.
Monday wandering, from Zee's for breakfast, up the Rundtaarn for overcast views of Copenhagen; a couple of hours in the library and a leisurely lunch at Yellow Rose; the sky turned blue in time to wander through a park and watch the sun set; AYCE vegan Chinese buffet for dinner at Veggie Heroes.
The return bus via Berlin; two nights and a day.