Life in Fife
Adventures in Fife from autumn 2020
Contains 802 photos, the last of which were added 4 days, 21 hours, 4 minutes, and 11 seconds ago.
A trek to Dysart to buy furniture, enjoying the glorious Ravens Craig beaches on the way.
Only got caught in one or two torrential downpours, in between the sunshine, and soaked through. Lunch at Koku Shi.
(Also featuring a trip to Edinburgh the day before for doughnuts, bbl vegan deli, and my wee brother.)
In the afternoon I took my office to the beach for a W3C call. Meanwhile my brother explored Seafields and he took most of these amazing photos.
A walk to and around Ravenscraig Castle, exploring the walls and towers on the beaches.
Ravenscraig, from Dave's perspective.
Dave and I took our laptops to the rocks at Seafields for a bit. It was nice for a while but not long before we were rained off. We could see the cloud looming from a way off so we managed to pack up before we got wet. It rained on us on the walk home, then was sunny again by the time we got back. Obviously.
Later we tested our local chippy and found it excellent.
Sunset beach stroll in Kirkcaldy.
Dave and I hiked from Kirkcaldy to the Wemyss Caves and back. It was a gorgeous day. Dysart and West Wemyss are seriously cute. We saw lots of seals basking in the sun, and met a nice cat. There are gorgeous smooth sand and craggy rock beaches, as well as multiple castles en route. In the Wemyss Caves are 1500 year old Pictish rock carvings. We found one, but will need the guided tour for the rest. We got ice cream and chips in East Wemyss and limped home, after 16 miles in total (GPS).
A nice Freegler offered me some things I need, but was in Glenrothes. Glenrothes is only one stop on the train, and right next to the Lomond Hills, so I thought I'd make a day of it and go for a hike before picking up the stuff. But also it turns out Glenrothes doesn't have a central station, but is in between two that are quite far from town.
Dave and I started the hike at Markinch station; one hour to the Pitcairn Center which was the 'real' start of the hike. We walked through woods and fields and ascended East Lomond (aka Falkland Hill). It was perfect hiking weather; overcast and not to warm and not too cold, and all the beautiful autumn colours are out. There were some people dressed as knights filming swordfights in the carpark near the base of East Lomond, and a few small families out for a hike as well.
We descended the steep way, and made a loop back to the Pitcairn Center, with only a slight detour off the trail through some bushes. This took three and a half hours, which was longer than I expected.
Then we marched south for another hour, around Glenrothes town center, to pick up our Freegle items (and met a nice doggo called Duncan). Fortunately nothing heavy. After that it was just 45 minutes back along a cycle path to Markinch for the train home.
The hike itself was perfect, but the extras at the beginning and end totally wore us out; 17 miles in total. GPS trace here.
Photos of the walk to Wemyss Caves by Dave. (See also my photos, notes, GPS etc.)
Dave's photos from the hike up East Lomond and around Glenrothes.
I made myself some handwarmers, which Dave promptly borrowed and stretched. So I made Dave some handwarmers. He wanted fingers on his too which is quite fiddly. Good use of small scraps of yarn.
Misc Kirkcaldy photos; settling in.. Beach and Beveridge park.
A walk from Kirkcaldy to Dysart through Ravenscraig, followed by some lounging on the vast damp expanse of Kirkcaldy beach, and lunch and a Nice Sit Down in a good chair at Anderson's cafe.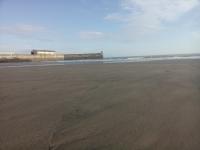 Back to Dysart because I freakin' love it; still nice in the rain. Later, a sunset stroll in the Seafields direction to catch some vibrant skies.
Woke up at sunrise cos the clocks went back. In the afternoon I ran from Kirkcaldy to Pettycur Bay with a pause to look at the pretty town of Kinghorn (GPS trace). Rain threatened ominously, but actually held off. Some brisk wind and some warm sun. Really nice trail.